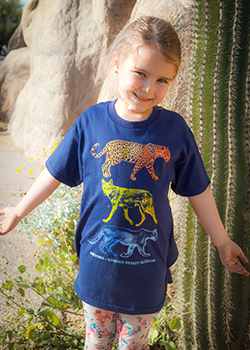 Photo: Jason Blake Photography
Is your child ready to party with cool cats, zippy bats, and playful packrats?
Then slink, swoop, or scamper to the Desert Museum for an unforgettable birthday adventure in Packrat Playhouse! Museum birthdays are hosted on Saturdays year-round (some blackout dates apply), and are recommended for children age 4-11.
Birthday Party Package starts at $299 and includes:
Personalized print-at-home PDF invitation
Birthday T-shirt
Fun educational activity (15 minutes)
Tracking booklets for each child
Admission to Stingray Touch for each guest
Reserved playtime in Packrat Playhouse and picnic tables from 10:00-11:30 a.m. or 1:30-3:00 p.m.
All-day Museum admission for up to 15 guests (adult or child age 3+)
Event staff support
Optional add-ons include:
Additional birthday guests


(adult or child age 3+, up to maximum of 24 total guests)

$20.00 each
Animal adoption
$35.00 - $50.00
Extra 30 minutes in your party space
$100.00
With the exception of a decorated cake from a licensed bakery, no outside food or drink may be brought into the Museum. Food vouchers (recommended amount $12/person) for the Ironwood Terraces are available through Craft Culinary Concepts, the Museum's exclusive food & beverage provider.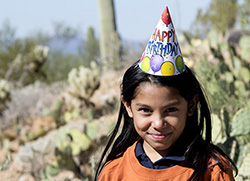 Some important policies to note…
All birthday parties are scheduled using our online booking calendar. After booking, the party host will receive a birthday party agreement to sign and return.
A $299 non-refundable payment is required to reserve your party date and time. A credit card must be left on file for any additional charges day-of.
All guests aged 3 and over are included in the birthday party guest count including Museum members.
Party host is permitted to bring in a decorated cake from a licensed bakery. Party host must provide cake slicer, plates, napkins, and utensils (for maximum personalization!). Staff is not available to cut or serve cake.
Party host is responsible for providing, transporting, setting up, and cleaning up all decor. No balloons, noisemakers, toy weapons, or masks allowed on Museum grounds.

Ready to book your party?