Mountain Wildflowers of Southern Arizona: A Field Guide to the Santa Catalina Mountains and Other Nearby Ranges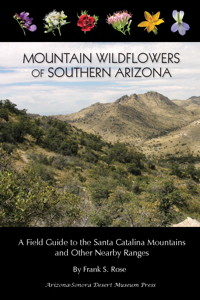 Order here
At this time, online book sales through the Desert Museum's web site have been temporarily disabled. We encourage you to visit us in person and browse our extensive book collection at our Gift Shops.
by Frank S. Rose
$19.95
$17.95 Member Price
2011
ISBN: 1591864585
Paperback: 230 pages, full color
Over 1,500 full color photos
Dimensions: 6 x 9 inches
Description
This definitive full-color field guide features images and notes on more than 370 species of southern Arizona's flowering plants growing at 4,500 feet and above. In addition to photographs of each plant as a whole (or a representative section), this guide provides individual images of a flower, fruit, and leaf of each species, allowing readers to easily distinguish between similar species. In these photographs, the plants and their components are isolated on a black background to better illustrate shape and form. Spiral bound for easy handling in the field, this portable companion also offers two points of entry for each flower; it is organized by plant family for plant aficionados and by flower shape and color for the budding botanist in all of us.
Reviews
"Splendid! The new standard for clear, helpful guides. Like having a botanist in your pocket?a book as beautiful as the flowers themselves. Entries are easy to find and fun to follow. With these glorious photos anyone can become a flower pro."
Bill Broyles, author of Our Sonoran Desert and co-editor of Dry Borders: Great Natural Reserves of the Sonoran Desert.

"?At last we have a comprehensive field guide for the flowers of the Santa Catalinas, useful in other Sky Islands as well. The hundreds of crystal-clear photographs offer multiple pathways for identifying flowering plants... The book even offers help in distinguishing the myriad DYCs (dastardly yellow composites), fleabanes, goldenrods, and wild beans. Nifty!"
David Yetman, author of The Great Cacti: Ethnobotany and Biogeography, and other books on Sonoran lands and peoples. Host of PBS Series, The Desert Speaks.

"First-rate photography, first-rate reproduction of images, comprehensive coverage of the subject?it would be hard to beat this bargain-priced wildflower resource. Whether headed for the coffee table, a bedside bookstand, or a hike, this quart-sized volume (just a little bigger than a pint) is a winner. A graceful, informative preface by author Rose gets users off to a good start."
J.C. Martin ? reviewer for Arizona Daily Star

"Count me a member of [the author?s] fan club. I love [this] wildflower book! It is the best one I've ever bought. Since 1983 I've been identifying wildflowers, mostly in the high Sierras of California; Anza Borrego State Park, San Diego County; and Death Valley. I have about 25 wildflower books. [Mountain Wildflowers of Southern Arizona] has all the most important things needed to distinguish plants that may have similar blooms."
Carolyn Moser
About the author
Frank S. Rose is an avid amateur botanist and active member of the Arizona Native Plant Society. He is a lifelong artist and past president of the Southern Arizona Watercolor Guild who has put his eye for aesthetics into photography and onto the pages of this field guide. A retired pastor, he recently illustrated the book Herbal Medicine of the American Southwest.