Gardening for Pollinators in the Desert Southwest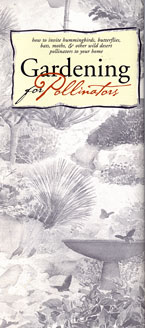 Order here
If applicable, enter your membership number or other discount code here, and click "Apply":
Not a member? Join now
Mrill Ingram, watercolors by Vera Ming Wong
$3.95
$3.56 Member Price

ISBN: 188667910x
Brochure

Description
For many of us, encounters with nature begin in the backyard. This publication aims to inspire everyone, from the dedicated gardener and the environmental educator to the occasional flower-sniffer, about the possibilities of bringing desert wildlife in for a visit. The publication includes a four-color illustration of a desert pollinator garden and detailed information, including plant lists, on how to garden in order to attract hummingbirds, butterflies, bees, and even bats.