Outdoor Gizmos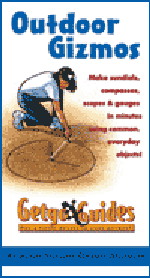 Order here
At this time, online book sales through the Desert Museum's web site have been temporarily disabled. We encourage you to visit us in person and browse our extensive book collection at our Gift Shops.
by Steven Phillips
$4.95
$4.46 Member Price
2003
ISBN: 1-886679-26-6
Laminated, full color throughout
Folds to 3.25 x 6 inches
Description
Did you know that a few rocks, some sticks, a shoelace or two, a wrist watch, a dollar bill, and a drinking straw are all you need to make surprisingly accurate sun-powered and star-powered gizmos? It's a fact. In minutes you can construct a stick and rock sundial or compass, assemble a Sky-high Scope that can measure the height of a tree or determine where you are on the planet, or figure out how long until the sun sets using nothing more than your hands.
This handy guide is intended for just about anybody who plans on spending some time out in nature. Seasoned hikers and backpackers will want to add these gizmos to their bag of survival tricks. For everyone else, this Getgo Guide will provide great entertainment, and maybe even an entirely new way of connecting with the sun and stars.
Venture forth! Make Gizmos! Have fun!