My Nana's Remedies / Los remedios de mi nana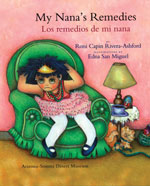 Order here
At this time, online book sales through the Desert Museum's web site have been temporarily disabled. We encourage you to visit us in person and browse our extensive book collection at our Gift Shops.
Roni Capin Rivera-Ashford; Illustrated by Edna San Miguel
$15.95
$14.36 Member Price
2002
ISBN: 1-886679-19-3
32 pages, full-color, appendix with native medicinal plants
Bilingual: English/Spanish
Suitable for ages 6-9
Description

2002 Foreword Magazine's
Book of the Year Award Finalist
2011 Royal Dragon Fly Award
In this children's book a warm and loving grandmother prepares a variety of traditional remedies for her young granddaughter, remedies to treat everything from an upset stomach to being frightened at night. The text is accompanied by the vibrant and captivating art of Edna San Miguel. Includes a section on common native medicinal plants of the region, prepared by ethnobotanist Ana Lilia Reina.
About the Author
Born and raised in Nogales, Arizona, Roni Capin Rivera-Ashford grew up embracing the language, culture and people of the Borderlands. She is a certified bilingual teacher and interpreter/translator. She is also the author of ASDM?s award-winning children?s book Hip, Hip Hooray, It?s Monsoon Day.
About the Illustrator
Sixth generation Tucsonan Edna San Miguel is a certified schoolteacher and a nationally recognized artist with extensive experience producing artwork for national women's and disability issues.
Reviews
Children's Bookwatch
My Nana's Remedies is a beautifully presented bilingual children's picturebook . . . Warm, playful color illustrations celebrate the fulfillment of family obligations and the enhancing of a caring relationship. My Nana's Remedies is a very special and most enjoyable book . . ."
School Library Journal
"The bright, solid-seeming, colored-pencil cartoon illustrations are both eye-catching and humorous. . . . Not only a heartwarming tale of a young child and her grandmother, this is also an excellent introduction to the art of the curandera and the concept of alternative medicine in general."
San Diego Union-Tribune
"A nice introduction to the language, traditions and the ways of the Hispanic culture."
Patricia Preciado Martin, author of El Milagro and Other Stories
"An important addition to the children's literature of the Southwest that celebrates the intergenerational love, respect and interdependence between a grandparent and grandchild."