The Secret Lives of Hummingbirds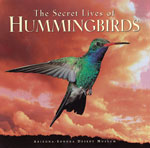 Order here
At this time, online book sales through the Desert Museum's web site have been temporarily disabled. We encourage you to visit us in person and browse our extensive book collection at our Gift Shops.
David Wentworth Lazaroff
$5.95
$5.36 Member Price
1995
ISBN: 1886679002
Paperback: 22 pages, 8 x 8 inches

Description
There is a sense of mystery that surrounds hummingbirds: Why are they so small? What makes it possible for them to hover? Why are they so colorful? Do they ever rest? This book gives the often amazing answers.The Secret Lives of Hummingbirds takes the reader into the high-energy world of North America's smallest bird. Hearts that beat 500 to more than 1200 times per minute. Wings that buzz at as much as 52 beats per second. And respiration that can clock in at up to 600 breaths per minute. But their energetic lifestyle is only one facet of the secret lives of hummingbirds.
Illustrated with twenty-nine full-color photographs, The Secret Lives of Hummingbirds is a treat for birders, naturalists, or anyone else who can't resist the allure of these eye-catching, pugnacious miniature birds. The book also includes a close-up look at the Desert Museum's famous hummingbird aviary as well as tips on how to enjoy and attract wild hummingbirds. It's no wonder that The Secret Lives of Hummingbirds is our most popular publication!
Excerpt
"Being a hummingbird is like driving a car with a one-gallon gas tank: there is an almost constant need to refuel. Hummingbirds are often perilously close to the limits of their energy reserves. On cold nights, when the costs of keeping warm are especially high, it may be too risky for a hummingbird even to keep its engine idling."
Reviews
South Dakota Bird Notes (South Dakota Ornithologist's Union)
"Even a professional ornithologist would enjoy this booklet. A surprisingly large range of topics are covered in the book, including (to list but a few) anatomy, breeding, coevolution of hummingbirds and flowers, migration, and how to attract the birds."