Dining with the Desert Museum
Favorite Recipes from the Arizona-Sonora Desert Museum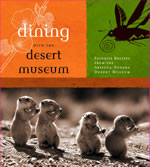 Order here
At this time, online book sales through the Desert Museum's web site have been temporarily disabled. We encourage you to visit us in person and browse our extensive book collection at our Gift Shops.
the Desert Museum Docents for the Capital Campaign
$29.95 New Lower Price $14.95
2006
ISBN: 978-1-886679-30-6
Hardcover: 352 Pages with over 300 recipes
Dimensions: 9¼" x 8½"
Description
An outstanding collection of recipes?from Southwest gourmet to traditional offerings
Created by the Museum's gifted and committed docents, this cookbook is a compilation of recipes contributed by staff, docents and volunteers of the Museum. It presents an outstanding collection of recipes that include some of the best dishes of the Southwest as well as delicious traditional offerings. Recipes range from tasty cold soups, like gazpacho, to tantalizing appetizers, like stuffed mushrooms, to regional entrees and dishes that incorporate native foods, like mesquite rolls and nopalitos. In addition, tidbits of information about the Sonoran Desert and the Desert Museum provide fun facts like how to make a tasty drink for visiting hummingbirds and how to make rich compost fertilizers for garden plants. This book is a must-have for the complete Southwestern kitchen.