Arizona-Sonora Desert Museum Book of Answers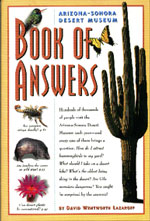 Order here
Arizona-Sonora Desert Museum Book of Answers is currently out of print.
David Wentworth Lazaroff
$14.95
$13.46 Member Price
1998
ISBN: 1886679096
Paperback: 200 pages
Dimensions: 6 x 9 inches
Description
What exactly is a desert? How can I attract hummingbirds? Are cactus spines poisonous? Is a javelina a pig? This book provides detailed answers to 42 questions that the staff at the Desert Museum are most often asked.
Supplemented with nearly 100 illustrations, this 200-page book is broken down into three sections: getting to know the desert, the desert as one's backyard, and enjoying the desert. Seven useful appendixes cover a range of topics including hummingbird gardening, venomous bites and stings, climate, and additional sources of information about desert life. A fun way to learn how wild and fascinating our deserts really are!
Sample questions:
How old do desert plants get?
What should I do about an injured, sick, or orphaned animal in my yard?
What might I bring on a hike to help me enjoy the desert?
Are saguaros endangered?
How did Indians live in the Sonoran Desert?
How can I attract desert wildlife to my yard?
How can I avoid dangerous encounters
with rattlesnakes while hiking in the desert?
How should I transplant cacti?
If I find a desert tortoise in the wild, can I take it home as a pet?
Reviews
Booklist (American Library Association):
"An excellent introduction to desert ecology . . . A very useful, and inexpensive, book."
Arizona Daily Star:
"This valuable book should find a place on every desert dweller's shelf."
Amazon.com:
"The 200,000 or so people who stroll through Tucson's Arizona-Sonora Desert Museum each year bring with them many questions: What is a desert? How is it that gophers and rattlesnakes can live in the same hole? How can I stop Gila woodpeckers from whittling down my house? If I find a desert tortoise, can I make it a pet? David Lazaroff, a biologist and writer, answers these and dozens more questions in this entertaining, intelligent book, which belongs on every Southwesterner's bookshelf." --Gregory McNamee