Beetles of the Sonoran Desert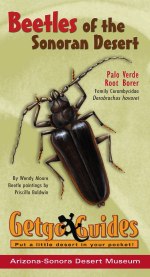 Order here
At this time, online book sales through the Desert Museum's web site have been temporarily disabled. We encourage you to visit us in person and browse our extensive book collection at our Gift Shops.
by Wendy Moore
Beetle paintings by Priscilla Baldwin
$4.95
$4.46 Member Price
2009
ISBN: 1886679-40-5
Laminated, full color throughout
Folds to 3.25 x 6 inches
Description
Meet the Beetles! Use this handy pocket guide to help you identify the common beetles of the Sonoran Desert.
Members of the order Coleoptera, beetles are one of the most common insects on Earth and they are well represented here. While they share basic features, they are incredibly diverse in size, shape, and color (many are adorned with strikingly beautiful patterns), as well as where they live, what they eat, and the services they perform in our ecosystem. From lightning bugs and ladybird beetles (sometimes called ladybugs), to longhorn beetles, scarabs, and click beetles, you?ll find this a most satisfying introduction to the fascinating and entertaining world of beetles in Sonoran Desert Region.