Katie of the Sonoran Desert / Katie del Desierto Sonorense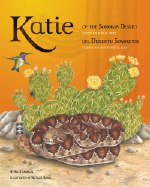 Order here
At this time, online book sales through the Desert Museum's web site have been temporarily disabled. We encourage you to visit us in person and browse our extensive book collection at our Gift Shops.
by Kate Jackson / Illustrated by Natalie Rowe
$16.95 New Lower Price $12.95
2009
ISBN: 1-886679-15-3
Hardcover
Bilingual: English/Spanish
Suitable for ages six to twelve

Description
This is the true story of Katie, a meter-long western diamondback rattlesnake, and her adventures as she struggles to make a life for herself in the harsh Sonoran Desert. We're with Katie, sharing in her determination as she hunts for the food she needs to stay alive, her terror when attacked by vicious predators, and her care and devotion to the litter of babies she gives birth to. Although the story is told from Katie's point of view, the reason we know so much about her life is because of the work of scientists, who also appear in the story, using the latest technology to learn more about the private lives of snakes, and ultimately facing a terrible decision when Katie's life is in danger. This is the perfect read for any child who wonders what it might be like to be a rattlesnake, as well as for older children who want to know more about what it's like to be a biologist and what the science of studying reptiles and amphibians (herpetology) is all about.
Awards
Winner of the 2010 IPPY (Independent Publisher Book Awards) Silver Medal for multicultural non-fiction children's books.
About the Author
Kate Jackson, Ph.D., teaches zoology and herpetology at Whitman College in Washington. She is also the author of the popular adult book Mean and Lowly Things: Snakes, Science, and Survival in the Congo, published by Harvard University Press.
About the Illustrator
Natalie Rowe is a designer, illustrator, fiber artist, and occasional musician. She has been drawing furred, feathered, and scaled creatures since she could first pick up a pencil.