Hip, Hip, Hooray, It's Monsoon Day! / ¡Ajúa, Ya Llegó el Chubasco!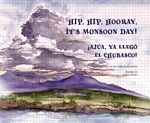 Order here
At this time, online book sales through the Desert Museum's web site have been temporarily disabled. We encourage you to visit us in person and browse our extensive book collection at our Gift Shops.
by Roni Capin Rivera-Ashford; Illustrated by Richard Johnson
$15.95
$14.36 Member Price
2007
ISBN: 1-886679-36-8
Hardcover

Bilingual: English/Spanish
Suitable for ages
Description
Hip, Hip, Hooray, It's Monsoon Day! lushly illustrates the Sonoran Desert rainy season, describing in English and in Spanish the ways in which people anticipate and celebrate the monsoon, as well as the meteorological phenomena behind the storms and the adaptations they have caused in local wildlife. The book also contains a detailed teaching discussion section and glossary.
Awards
2007 Southwest Books of the Year Children's book award.
2008 AAAS (American Association for the Advancement of Science) Recommended Science Children's Book (Highly Recommended)
2008 Américas Award for Latin American and Caribbean Studies (Commended Title)
2009 OneBookAZ Award
About the Author
Born and raised in Nogales, Arizona, Roni Capin Rivera-Ashford grew up embracing the language, culture and people of the Borderlands. She is a certified bilingual teacher and interpreter/translator.
About the Illustrator
Richard Johnson has also worked as a bilingual teacher, and has lived in the southwest all his life. Johnson is a member of the Southern Arizona Watercolor Guild and celebrates the monsoons annually.