Archives: 2003 Earth Day Poetry Contest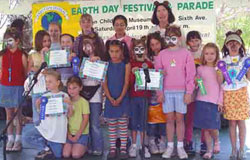 Photo by Abraham Blattstein
Fourth Annual Coati Kids Earth Day Poetry Contest
This contest was held for school children grades 1 - 6. We had loads of entries, over 300 from all over the Tucson area.
The poems were really great! The first place winners came to Armory Park on Earth Day 2003 to read their winning poems at the awards ceremony.
Click for our photo album to see how much fun we had!
Overall First Place Winner:
Christina Rosenberg, 1st Grade, Miles ELC
The Desert Is
First Place Winners:
Christina Rosenberg, Miles ELC
The Desert Is

Kylie Young, 2nd Grade, Miles ELC
The Desert

Sonora Orchard, 2nd Grade, Montessori School House
Peregrine Falcon
Natalia Navarro, 2nd Grade, St. Michael"s Parish Day School
The Sonoran Desert
Melanie Mosier, 3rd Grade, Miles ELC
The Desert

Tony Tribolet, 4th Grade, Myers-Ganoung Elementary School
Sonoran Desert

Mallory Kelley, 5th Grade, Coyote Trail Elementary School
My Home

Robert Rosenberg, 5th Grade, Coyote Trail Elementary School
Poem
Michelle Vock, 6th Grade, St. Cyril School
Hummingbird


2nd Place Winners
Michael Lopez, 1st Grade, Amerischool Children"s Academy
The Rattlesnake

Kayla Rodriguez, 2nd Grade, Montessori School House
A Night in the Desert

Willa Kerkhoff, 2nd Grade, Montessori School House
The Saguaro

Venessa Quinlin, 2nd Grade, Montessori School House
Who Am I?

Mariah Fusci, 3rd Grade, Hudlow School
Desert Days

Shawn Strand, 4th Grade, Hudlow School
Haiku - Night Hawks

Samantha Douglas, 5th Grade, Coyote Trail Elementary School
Earth Day
Garrett Voge, 6th Grade, St. Cyril School
The Desert

3rd Place Winners
James Boehm, 1st Grade, Armstrong Academy
Sonoran Sunset

Dakota Leigh Frye, 2nd Grade, Miles ELC
Desert Animals Are...

Julian Armenta, 2nd Grade, Miles ELC
Desert

Katie Singleton, 3rd Grade, Hudlow School
The Sun-Kissed Desert

Joselinne Reyes, 4th Grade, Myers-Ganoung Elementary School
The Sonoran Desert
Joey Richards, 5th Grade, St. Cyril School
Animals
Paula Moreno, 5th Grade, St. Cyril School
The Bobcat's Hunt


Honorable Mentions
Veronica Mamake
1st Grade at Miles ELC
Kangaroo Rats

Alexandra Hartke
1st grade at Immaculate Heart Academy
Snake

Katie Krasinski
1st grade at Immaculate Heart Academy
Javelina

Kailas Samaha
1st grade at Armstrong Academy
Sonoran Sunset

Antonio Guttierez-Jaramillo
1st grade at Armstrong Academy
Sonoran Sunset

Cindhuri Karumanchi
1st grade at Armstrong Academy
Sonoran Sunset

Neeta Patel
1st grade at Amerischool Children"s Academy
The Desert Plants

Emily Harayda
2nd grade at Gale Elementary
Animals in the Sun

Emma Bell
2nd grade at Montessori School House
Rattlesnake

James Miscione
2nd grade at Kellond Elementary
Sonoran Desert

Kate Culbertson
2nd grade at St. Michael's Parish Day School
Sonoran Desert Creatures

Marian Arthur
2nd grade at St. Michael"s Parish Day School
The Desert Museum

Tad Tatum
2nd grade at St. Michael"s Parish Day School
The Desert

Kendra Bruce
3rd grade at Miles ELC
Desert Island
Ingutu Kaimoyo
3rd grade at Miles ELC
Wild Desert
Jennifer Harris
3rd grade at Hudlow School
The Sonoran Desert
Andrea Maynard
3rd grade at Hudlow School
The Saguaro

Carrie Hincher
3rd grade at Hudlow School
The Great Show
Karen Hernandez
4th grade at Myers-Ganoung Elementary School
Desierto

Ruth Soto
4th grade at Myers-Ganoung Elementary School
Desierto

Joshua Riley
4th grade at Carden of Tucson
Under a Rock in Arizona

David Robles
5th grade at Hudlow School
Haiku - the Cactus Wren

Fabian Lopez
5th grade at Hudlow School
Gila Monster

Joanne Ocasio
5th grade at Coyote Trail Elementary School
Wonders of my Land
Ben Neilsen
5th grade at St. Cyril School
untitled

Emily Kornmueller
6th grade at St. Cyril School
A Day in the Desert