Welcome to the Ocotillo Café
Our culinary team utilizes the finest ingredients available to create our regional cuisine.
Enjoy fresh-baked focaccia bread served with our signature garlic cilantro-pistachio pesto.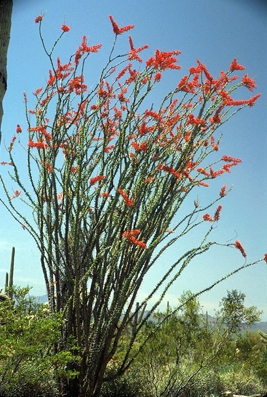 Fouquieria speldens
Photographer: Mark A. Dimmitt
© 1992 ASDM
Appetizers
Oasis Starter

Seasonal Cheeses / Seasonal Berries / Pine Nut Tuille
$14

Hummus Platter

Hummus / Pita Bread / Chopped Greek Salad / Kalamata Olives / Feta Cheese / Herb Vinaigrette
$13
Entrées
Arizona Cobb Salad

Chopped Romaine Hearts / Grilled Chicken / Jalapeño Bacon / Egg / Avocado / Tomato / Kalamata Olives / Provolone Cheese / Crostini / Chipotle Ranch Dressing
$19

Greek Salad

Tossed Romaine and Spring Mix / Grilled Chicken / Kalamata Olives / Tomatoes / Red Onion / Cucumber / Feta Cheese / Toasted Pita Wedges / Herb Vinaigrette
$18

Kale Salad

Citrus-Marinated Lacitano Tuscan Kale / Parmigiano Reggiano / Seasoned Breadcrumbs
$16
(Add Grilled Chicken for $4.95)

Pork Tacos

Roasted Pork / Corn tortillas / Roasted Corn / Pickled Onions $17

Grilled Mahi Tacos

Grilled Mahi-Mahi / Corn Tortillas / Cabbage / Pico De Gallo / Avocado Crema / Quesa Fresco
$17

Wok-Charred Salmon

Prickly Pear Honey-Mustard Glaze / Chef's Side / Marinated Kale
$23
(Also available Grilled with Cucumber-Dill Sauce)

Tamale Vegetales De La Casa

Central American Style Banana Leaf Wrapped Corn Masa / Queso Fresco / Sautéed Spinach / Wild Mushrooms / Tomatillo Sauce / Chef's Side / Marinated Kale
$20

Kobe Burger

7oz American Style Kobe Beef Patty Grilled to Order / Pepper Jack Cheese / Jalapeño Bacon / Green Chile / Lettuce / Tomato / Onion / Pickle / Brioche Bun / Your Choice of Fries
$16

Bison Burger

Pepper Jack Cheese / Jalapeño Bacon / Green Chile / Lettuce / Tomato / Onion / Pickle / Brioche Bun / Your Choice of Fries
$16

Posole Verde Del Mar

Green Lip Mussels / Littleneck Clams / Gulf Shrimp / Mahi-Mahi / Crab Claws / In our House Hominy Stew and White Wine Tomatillo-Poblano Broth
$22

Pasta al Pomadoro

Roasted Roma Tomato / Fresh Garlic & Basil / White Wine & Olive Oil
$15
(Add Grilled Chicken or Suatéed Shrimp for $5)

Roasted Chicken

Half of a Roasted Chicken / Chef's Side / Marinated Kale
$18

Grilled Steak

Bordelaise Sauce / Marinated Kale / Chef's Side
$24
Please ask your server how to make your meal gluten-free
Consuming raw or undercooked meats, poultry, seafood, shellfish, or eggs may increase your risk of food-borne illness.
For your convenience, a 20% gratuity will be added to parties of six or more.
Our seafood comes from sustainable sources in accord with the Monterey Bay Aquarium Seafood Watch. Ask for a Sustainable Seafood pocket guide to take with you.
Libations
Premium Beer

Selections by Grand Canyon Brewing Company: Sunset Amber, American Pilsner, Horse Shoe Pale Ale, Amstel Light
$6

Prickly Pear Margarita

Prickly Pear Syrup, Sauza Gold Tequila, Triple Sec, Fresh Lime Juice, Shaken and Served Over Ice
$8

Domestic Beer

Budweiser, Bud Light
$5

Non-Alcoholic Fare

Prickly Pear Tea, Assorted Sodas
$3
Wine Selections
Description
Glass
Bottle
Chardonnay
Settler's Rise
Green straw with notes of peaches and oak. Rich aftertaste
$7
$28
Pinot Grigio
Settler's Rise
Young, fruity wine with melon and pear overtones. Floral.
$7
$28
Pinot Noir
Phenom
Fruity pinot noir with a nose of violet and cedar.
$7
$28
Other Reds
14 Hands Merlot
Soft cherry and blackberry nose with a toasted oak finish
$7
$28
14 Hands Cabernet Sauvignon
Bright, juicy red with a nose of blueberry and currants
$7
$28
Settler's Rise (Cab/Merlot)
Dry, medium-bodied wine with sweet fruit and herbs.
$7
$28
Settler's Rise Shiraz
Jammy, spicy wine with a rich finish.
$7
$28
"The Ocotillo"
The Ocotillo family is a small one of only 13 species restricted to the warm-arid section of North America. Members of this family are odd-looking plants, some even bizarre. They are characterized by spiny stems with bundles of seasonal leaves at each spine. The Ocotillo is a woody shrub 10 to 20 feet tall. The stems range from nearly vertical to widely-spreading in different individuals. Dense spikes of tubular, red to red-orange flowers sprout from the stem tips in spring. The flowering season begins as early as February at the lowest elevations.