Desert Museum Exclusives - Shopping at the Desert Museum - Skip Links
The Arizona-Sonora Desert Museum will re-open at 11 a.m. today. While the source of water loss is still unknown, water is flowing into, and collecting properly, in the Desert Museum's reservoir. Food service will be limited to pre-packaged items for the remainder of the day. All other activities are back on the normal schedule. Thank you.
Desert Museum Exclusives

These one-of-a-kind life size bronze sculptures by artist Mark Rossi capture the beauty of nature with precision and detail, and are small enough to hold in the palm of your hand. Buy online now.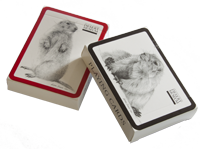 These delightful playing cards feature cute prairie dog illustrations by Priscilla Baldwin on the back. Buy online now.

The Desert Museum notecard collection features images from the Desert Museum. Each card features a poem, personally selected by the Desert Museum's poet-in-residence, Eric Magrane. The poem compliments and speaks to the card's image and is one in a series of collaborations between the Arizona-Sonora Desert Museum and the University of Arizona's Poetry Center.