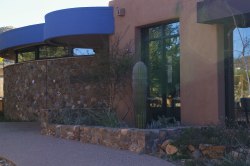 Follow posted signs to the
Baldwin Education Building
Exhibitions and Special Events
In the Baldwin Education Building
The Baldwin Education Building is generally open Monday through Friday from 9:00 am to 4:00 pm and by appointment. Weekend and holiday hours vary. Please call 520-883-3024 to check gallery hours for the day you plan to visit.
See also our Ironwood Gallery Exhibits
From Pole to Pole: Connecting Ocean Life
A photographic exploration of diversity by Michael S. Nolan
June 9 - August 27, 2017
Open Monday to Friday 9:00 a.m. - 4:00 p.m.
Weekends vary, please call 520-883-3024
Michael S. Nolan is an award-winning photographer who specializes in intimate portraits of marine animals. He has traveled the oceans of the world in search of what he believes are the world's most magnificent beings. Since 1990 all of his underwater images have been created while free-diving, without the aid of bulky Scuba equipment. As a result, he believes his encounters with these magnificent ocean creatures are much more personal and intimate. His photography has appeared in thousands of newspapers, magazines, calendars, and books in over 48 countries worldwide.