Running Wild!
Live-animal Presentation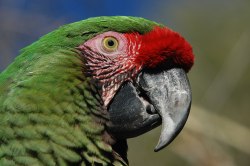 Photo by Ted Myers © ASDM
Presented at 11:00 a.m. daily except Tuesdays and Wednesdays.
Pitter, patter, swoosh, raaack. These are sounds visitors hear in the Desert Museum's Warden Oasis Theater during a live animal demonstration called Running Wild. A raccoon-like ringtail scampers across the stage, colorful macaws ramble around, and a stout porcupine waddles by. Bold images of the animals in desert, montane, marine and tropical forest habitats are projected on a large screen with educational text while animals scurry about the stage. To complete the experience, subtle music accompanies the action.
The current educational focus of Running Wild is celebrating the animals people see in their own neighborhoods. The animals help bring to life the natural history of backyard wildlife and ofers conservation tips for living with "nature's neighbors."
The Running Wild demonstration was designed for people of all ages, and it has a strong appeal to children. The experience includes trivia questions about animals you might see in your own backyard, animals running loose on the stage, a multi-media approach, the opportunity to touch an animal and a thirty-minute format.