Welcome to the Ocotillo Café
Our chefs utilize the freshest ingredients available to create our regional cuisine.
Please enjoy our fresh-baked focaccia bread served with cilantro pesto.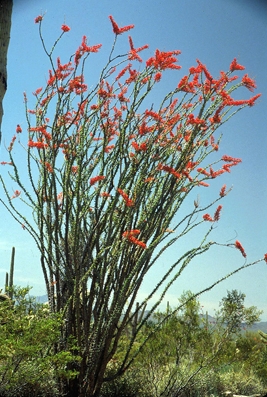 Fouquieria speldens
Photographer: Mark A. Dimmitt
© 1992 ASDM
Small Plates
Tapas Sampler

Beef Machaca Flautas / Chicken / Tapenade / Chicama Bread
Roasted Nopales / Avocado Pico / Tomatillo Sauce
Salsa Mexicana
$11

Herb Hummus

Grilled Indian Flatbread / Greek Chopped Salad
Kalamata Olives / Herb Vinaigrette
$9

Wonton Handrolls

Crisp Wonton Wrapper / Avocado Spread / Cucmber Ribbon / Shrimp Ceviche
Salmon Tartare
$13

Oasis in the Desert

Piñon Tuile / Organic Lettuce / Grilled Pineapple / Grapes
Fresh Berries & Seasonal Fruit / Mozzarella Cheese
Toasted Vanilla Bean Vinaigrette
$13

Gravlax Petit-Fours

Toasted Yam Straws / In-House Salmon Gravlax
Crème Fraiche / Dill Sprig
$13

Mushroom Vol Au Vent

Puff Pastry / Roasted Chicken / Suateed Wild Mushrooms
Carmelized Scallions / Thai Basil Sprig
$10
Salads and Entrees
Greek Salad

Freshly-Chopped Romaine Lettuce / Kalamata Olives / Red Onion / Feta Cheese / Roasted Tomato / Chicken / Cucmber Slices / Toasted Pita Wedges
$17

Vegetable Salad

Freshly-Chopped Kale & Romaine / Tomato / Carrots / Celery / Jicama / Red Bell Peppers / Vinaigrette / Feta Cheese
$16

Dos Equis Tri-Tip Ensalada

Marinated Tri-Tip / Romaine Hearts, Arcadian Heritage Baby Greens / Dried Cherries / Roasted Peppers / Toasted Piñon / Dried Corn
Queso Fresco / Jicama / Roasted Potatoes / Sweet & Sour Serrano Vinaigrette
$19

Pescado de la Noche

Chef's Choice Fish of the Night / Basmati Rice with Sundried Cranberries and Pine Nuts / Broccolini
$24

Achiote Chicken

Achiote-Marinated Chicken / Native Bean Succotash Bedding / Broccolini
$22

Wok-Charred Salmon

Monsoon-Dusted Salmon / Prickly Pear Honey Mustard Glaze / Basmati Rice with Sundried Cranberries and Pine Nuts / Broccolini
$25

Grilled Vegetable Palette

Poblano Chile Cheese Relleno / Portobello Mushroom / Summer Squash / Bermuda Onion / Asparagus
Roasted Peppers / Black Bean Pico de Gallo / Roasted Tomato Vinaigrette / Basmati Rice with Sundried Cranberries and Pine Nuts
$22

Top Sirloin

8-oz Grilled Sirloin / Ancho Bourbon Sauce / Roasted Garlic Mashed Potatoes / Broccolini
$22

Pumpkin-Panko Crusted Chicken

Pan-Seared Chicken / Ancho Chili Sauce / Blackbean Yam Hash / Roasted Garlic Mashed Potatoes / Broccolini
$22

Pasta Pomadora

Roasted Tomato & Sundried Tomatoes / Basil / Wine / Garlic Butter
$16
Add Grilled Chicken $3
Add Grilled Shrimp $5
Kid's Menu
All kid's menu items are $7.00
Main Items
Hamburger
Cheeseburger
Cheese Pizza
Hot Dog
Corn Dog
Chicken Tenders
Pepperoni Pizza
Kid's Sides
(One side included with each kid's meal)
French Fries
Fruit Cup
Please ask your server how to make your meal gluten-free
Consuming raw or undercooked items may increase your risk on food borne illness.
For your convenience, a 20% gratuity will be added to parties of six or more.
Our seafood comes from sustainable sources in accord with the Monterey Bay Aquarium Seafood Watch.
Libations
Premium Beer:
Corona, Pacifico, Dos Equis Ambar, Anchor Steam, Anchor Porter, Heineken, Amstel Light, Fat Tire $6
Prickly Pear Margarita:
Sauza Gold Tequila, Triple Sec, Prickly Pear Syrup, fresh lime juice, shaken and served over ice $8
Domestic Beer:
Budweiser, Bud Light, Clausthaler $5
Wine Selections
Description
Glass
Bottle
Chardonnay
House Chardonnay
Oak & rich apple tones
7
14 Hands
Crisp notes of apple and pear (Washington)
28
Cuvasion 375mL
Lush flavors of peach, apricot, and papaya (Napa Valley)
20
Sauvignon Blanc
House Sauvignon Blanc
7
Kim Crawford 375mL
Elegant & crisp with soft fruit undertones
16
Murphy Goode Fume
A vibrant wine that boasts aromas of citrus (Sonoma County)
40
Pinot Grigio
House Pinot Grigio
Crisp pear, hint of grapefruit
7
Tamás Estates
Hint of grapefruit with notes of orange (Monterey)
28
White Zinfandel
Sylvester
Layers of citrus and strawberry (California)
6
Pinot Noir
Evil
Sinful blend of cherry and chocolate (France)
7
Argyle
Deep underlying scents of tilled earth and Eastern spices (Williamette Valley)
40
Irony
Plum flavors layered with vanilla
32
Merlot
House Merlot
Raspberry with notes of cherry
7
14 Hands
Blackberry nose with hints of spice and pepper (Washington)
28
Cabernet Sauvignon
House Cabernet Sauvignon
Soft tannins with a hint of black cherry
7
14 Hands
Vibrant wine with cherry tones (Washington)
32
Geyser Peak 375mL
Forward fruit characters with underlying graceful tones of chocolate (Alexander Valley)
20
Mondavi 375mL
Dark, dense notes of blackberry with subtle notes of thyme (Napa Valley)
22
Other Reds
The Big House Red
Blackberries and raspberries with hints of leather and spices (California)
28
Non-Alcoholic Beverages
Freshly Brewed Prickly Pear Iced Tea $3
Pepsi, Diet Pepsi, Sierra Mist, Dr. Wells, Root Beer, Mountain Dew $3
Lemonade, Orange Juice, Apple Juice, Cranberry Juice, Milk, Coffee, Hot Tea $3
"The Ocotillo"
The Ocotillo family is a small one of only 13 species restricted to the warm-arid section of North America. Members of this family are odd-looking plants, some even bizarre. They are characterized by spiny stems with bundles of seasonal leaves at each spine. The Ocotillo is a woody shrub 10 to 20 feet tall. The stems range from nearly vertical to widely-spreading in different individuals. Dense spikes of tubular, red to red-orange flowers sprout from the stem tips in spring. The flowering season begins as early as February at the lowest elevations.