Dinner Menu - Cool Summer Nights 2016 - Ocotillo Café
Note: Due to remodelling, the Ocotillo Café will not be open for the final Cool Summer Night, September 3, 2016.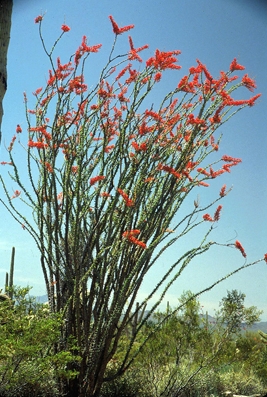 Fouquieria speldens
Photographer: Mark A. Dimmitt
© 1992 ASDM
Empezar
Palo Cerdo

Pork Belly & Red Peach Skewers
Citrus Mojo Glaze + Jicama Street Slaw
$9

Oxtail Sopes

Cola Braised Cola + Masa Mofungo
Hot & Sour Mangos & Cumin Cremoso $9


Mushroom Tlayuda

Grilled House Made Tortilla
Oyster Mushroom + Oaxacan Cheese
Tomato Ti Malice & Radish Sprouts
$8

Aguacatellano

Crab Cuchfrito Stuffed Avocado
Preserved Lime & Brown Butter Aioli
$10

Chicken Tamborines

Malibu Brined Drummers + Smoked Peanuts
Tangerine-Tapatio Sauce + Esquites
$7
Cenas
Grilled Jerk Duck Breast

Honey Parsnip Purée + Chipotle Polenta
Shaved Apple & Fennel
$19

Roasted Pork Tenderloin

Padron Green Curry + Ginger Yogurt
Ranchero Red Beans & Watercress
$18

Coconut Crusted Butterfish

Palm Heart + Papaya Fresco
Cascabel Salt-Camotes & Chorizo Braised Brussels
$20

Mariscos Mezclado

Cane Stuck Prawns + Crab Cuchfritos
Burnt Lemon Aioli & Ranchero Red Beans
$22

Chili en Nogada

SoyDillo Stuffed Poblano + Salsa Nogada
Pomegranate "Seeds"
Chipotle Polenta
$17

Cedar River Farms Ribeye

All Natural Beef & Banana-Lime Hollandaise
Market Vegetables + Cascabel Salt-Camotes
$25

Chicken & Gofres

Blue Corn Half Chicken
Cassava Waffle + Pequin Molasses
Repollo Rojo + Raisins
$18
Dulces
Frutas en Tacha

Sweet Potato Ice Cream
ASDM Garden Figs + Piloncillo Syrup

Coquito Acaramelado

Roasted Coconut Fritters
Raspberry Ganache + Vanilla Creme Fraiche

Pastelitos De Papaya

Lavender Honey Cupcakes
Papaya Foam + Grilled Peaches

Tarta de Chocolate Jengibre

Chocolate Truffle Tart + Ginger-Plum Sauce
Roasted Pumpkin Seeds
Sorbos
Traditional Mojito

Cruzan Rum + Simple Syrup + Mint
Lime + Soda Water
$8

Prickly Pear Margarita

Sauza Blue Reposado Tequila + Prickly Pear
Syrup + Lime & Lemon Juice
$8

Sonoran Cucumber Bloody Mary

EFFEN Cucumber Vodka
House Made Mix + Salted Rim
$8

Prickly Pear Mimosa

Fresh OJ + Prickly Pear Syrup
J Roget Sparkling Wine
$8

Cosmopolitan

Stolichnaya Vodka + Triple Sec
Lime + Cranberry Juice
$7

Beefeater Collins

Beefeater Gin + Lemon Juice
Simple Syrup + Club Soda
$7

Ocotillo Mule

Tito's Vodka + Lime Juice
Gossling's Ginger Beer
$8
Undercooked eggs, meats & fish may increase risk of food borne illness
20% gratuity will be added to all parties of six or more
"The Ocotillo"
The Ocotillo family is a small one of only 13 species restricted to the warm-arid section of North America. Members of this family are odd-looking plants, some even bizarre. They are characterized by spiny stems with bundles of seasonal leaves at each spine. The Ocotillo is a woody shrub 10 to 20 feet tall. The stems range from nearly vertical to widely-spreading in different individuals. Dense spikes of tubular, red to red-orange flowers sprout from the stem tips in spring. The flowering season begins as early as February at the lowest elevations.