Welcome to the Ocotillo Café
Our chefs utilize the freshest ingredients available to create our regional cuisine.
Enjoy fresh-baked focaccia bread served with our signature garlic cilantro-pistachio pesto.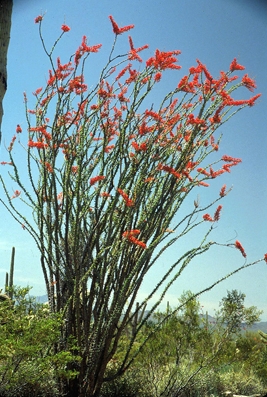 Fouquieria speldens
Photographer: Mark A. Dimmitt
© 1992 ASDM
Small Plates
Tapas Sampler

Jalapeño Bacon Wrapped Stuffed Dates
Assorted Proscuitto Wrapped Fruit & Cheese
Season Baby Greens / Fried Parmesan Tuille
$12

Hummus Platter

Hummus / Pita Bread / Chopped Greek Salad / Kalamatta Olives / Feta Cheese / Herb Vinaigrette
$10

Sonoran Savory Cannolis

Traditional Crisp Cannoli Shell / Sweet Jalapeño Pepper / Mascarpone Cheese / Cabbage Pico de Gallo / Sweet Brined Crispy Pork Belly
$12

Oasis in the Desert

Mesquite Tuille / Mixed Spring Greens / Grilled Pineapple / Grapes / Fresh Berries & Seasonal Fruit / Assorted Cheeses / Toasted Vanilla Bean Vinaigrette
$11

White Fish Tacos

Flash Fried Cod / Corn Tortillas / Cabbage Pico De Gallo / Avocado Crema / Quesa Fresco
$12

Wild Mushroom Crustata

Puff Pastry / Sauteed Wild Mushrooms / Carmelized Shallots / Seasoned Baby Greens / Fried Parmesan Tuille
$11
Salads and Entrées
Arizona Cobb Salad

Chopped Romaine Hearts / Grilled Chicken / Jalapeño Bacon / Egg / Avocado / Tomato / Kalamatta Olives / Provolone Cheese / Crostini / Chipotle Ranch Dressing
$17

Kale Salad

Lemon-Marinated Lacitano Tuscan Kale / Parmigiano Reggiano / Seasoned Breadcrumbs
$16

Dos Equis-Bistek Ensalada

Marinated Tri-Tip / Romaine Hearts / Baby Greens / Gold Beets / Roasted Peppers / Beet Chips / 60-day Corn / Queso Fresco / Sweet & Sour Serrano Vinaigrette
$19

Sonoran Caesar Salad

Romaine Hearts / Crostini / Ancho Chile Caesar Dresing / Marinated Chicken
60-day Corn / Fried Parmesan Tuille
$17

Wok-Charred Salmon Salad

Monsoon-Dusted Salmon / Mixed Spring Greens / Candied Pecans / Gorgonzola Crumbles / Tomato / Cucumber / Pickled Onions
$19
(Or enjoy as an Entrée with Prickly Pear Honey-Mustard Glaze / Chef's Side / Marinated Kale for $20)

Tamale Vegetales De La Casa

Central American Style Banana Leaf Wrapped Corn Masa with Queso Fresco, sautéed spinach and wild mushrooms. Served with Grilled Calabaciras / Roasted Tomatillo Sauce / Chef's Side / Marinated Kale
$20

Kobe Burger

7oz American Style Kobe Beef Patty Grilled to Order / Pepper Jack Cheese / Jalapeño Bacon / Green Chile / Lettuce / Tomato / Onion / Pickle / Brioche Bun / Sweet Potato Fries —or— Steak Fries
$15

Red Chile Cured New York Strip Loin Steak

12oz Charbroiled / Wild Mushroom & Gorgonzola Panna Cotta / Chef's Side / Marinated Kale
$25

Posole Verde Del Mar

Green Lip Mussels / Litleneck Clams / Gulf Shrimp / Cod / Crab Claws in our House Hominy Stew and White Wine Tomatillo-Poblano Broth
$25

Pasta al Pomadoro

Roasted Roma Tomato, Fresh Garlic & Basil, Sauteed in white Wine & Olive Oil
Served with Angel Hair Pasta $19
With Pulled Chicken $23
Frutti Di Mare $25

Sonoran ½ Roasted Chicken

Citrus Marinated / Slow Roasted / Grained Mustard-Lime Aioli / Natural Pan Jus / Chef's Side / Marinated Kale
$20
Kid's Menu
All kid's menu items are $7.00
Main Items
Hamburger
Cheeseburger
Cheese Pizza
Hot Dog
Corn Dog
Chicken Tenders
Pepperoni Pizza
Kid's Sides
(One side included with each kid's meal)
French Fries
Fruit Cup
Please ask your server how to make your meal gluten-free
Consuming raw or undercooked items may increase your risk on food borne illness.
For your convenience, a 20% gratuity will be added to parties of six or more.
Our seafood comes from sustainable sources in accord with the Monterey Bay Aquarium Seafood Watch.
Libations
Premium Beer:
Corona, Pacifico, Dos Equis Lager, Amstel Light, Grand Canyon Brewing Company American Pilsner, Grand Canyon Brewing Company Sunset Amber Ale $6
Prickly Pear Margarita:
Sauza Gold Tequila, Triple Sec, Prickly Pear Syrup, Fresh Lime, Orange Juice, shaken and served over ice $8
Domestic Beer:
Budweiser, Bud Light, Clausthaler (Non-Alcoholic) $5
Wine Selections
Description
Glass
Bottle
Chardonnay
House Chardonnay
California '11
6
14 Hands
Columbia Valley, Washington '11
28
Cuvasion 375mL
Napa Valley, California '10
20
Sauvignon Blanc
House Sauvignon Blanc
New Zealand '11
6
Pinot Grigio
House Pinot Grigio
California '11
6
Tamás Estates
Central Coast, California '10
28
White Zinfandel
House White Zinfandel
California '11
6
Cabernet Sauvignon
House Cabernet Sauvignon
California '11
6
14 Hands
Columbia Valley, Washington '10
28
Merlot
House Merlot
California '10
6
14 Hands
Columbia Valley, Washington '10
28
Pinot Noir
House Pinot Noir
South Eastern Australia '12
6
Acrobat
Williamette Valley, Oregon '10
45
Non-Alcoholic Beverages
Freshly Brewed Prickly Pear Iced Tea $3
Pepsi, Diet Pepsi, Sierra Mist, Dr. Wells, Root Beer, Mountain Dew $3
Lemonade, Orange Juice, Cranberry Juice, Milk, Coffee, Hot Tea $3
"The Ocotillo"
The Ocotillo family is a small one of only 13 species restricted to the warm-arid section of North America. Members of this family are odd-looking plants, some even bizarre. They are characterized by spiny stems with bundles of seasonal leaves at each spine. The Ocotillo is a woody shrub 10 to 20 feet tall. The stems range from nearly vertical to widely-spreading in different individuals. Dense spikes of tubular, red to red-orange flowers sprout from the stem tips in spring. The flowering season begins as early as February at the lowest elevations.