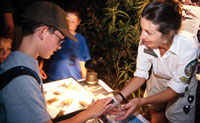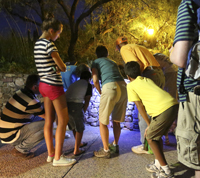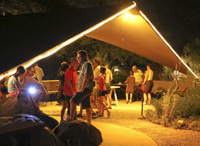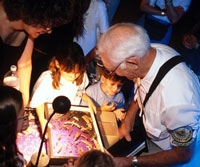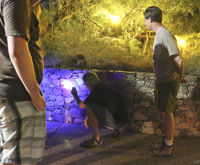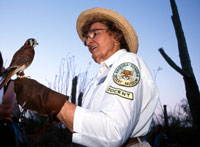 Photos above by Rhonda Spencer and Josh Schachter
Beat the Heat with
Cool Summer Nights 2014
Saturday Evenings — May 31 through August 30
Open until 10:00 p.m.
Special Programming (usually begins at 6:00 p.m.)
As summer temperatures simmer in the 100s, Arizona residents seek to keep cool and still stay active. A visit to the Desert Museum on Saturday nights has become a Tucson tradition.
With stunning sunsets, clear desert skies, gourmet dining, and animals miraculously appearing from their heat-induced daytime estivation, it's understandable why the magical-like Saturday nights have become so popular. This year, by popular demand, the Cool Summer Nights schedule has been expanded offering 14 nights to enjoy beginning Saturday, May 31st.
On opening night, the Museum will also unveil a new reptile exhibit, Snake! Rattle & Roll, introducing intriguing and lesser-known Mexican rattlesnakes from Sonora and Baja California.
A nighttime visit is just downright different from a daytime visit. The desert's nocturnal animals become active, bats turn into insect-seeking missiles, and scorpions glow under black lights. The Museum's highly trained and dedicated docents provide Sonoran Desert insights at interpretative stations scattered throughout the grounds.
Dining on summer Saturday evenings at the Museum is a culinary delight as the upscale Ocotillo Café is open for dinner. The intimate desert garden setting is the perfect backdrop for savory Sonoran recipes. Reservations are strongly recommended by calling 520-883-5705.
For taste-temping treats visit the Cottonwood Snack Shack located near the Riparian Corridor's otters and beavers. Indulge in a "build-your-own" ice cream sandwich — sure to be a hit with families!
Also open for dinner is the Ironwood Terraces Restaurant, the largest dining venue at the Desert Museum which offers a more casual atmosphere, either inside or outside on one of the many patios overlooking the desert landscape and nighttime vistas.
And just in case you forgot your black light, both gift shops will be open. You might consider starting your holiday shopping early!
Each summer Saturday night has a unique theme and special activities typically begin at 6:00 PM, although some do start earlier. Check the schedule below for weekly themes and activities.
Ongoing Nightly Events on Cool Summer Nights
Look for Museum Docents and Jr. Docents interpreting live animals, celestial desert skies, fluorescent minerals, animal eye shine, Sonoran Desert insects, night sounds, bats, kissing bugs, scorpions, and/or rattlesnakes.
Check the Plan Your Visit board at the Entrance Patio for times and locations!
---
Weekly Themes & Activity Schedule