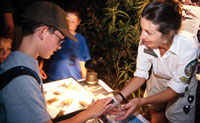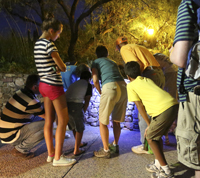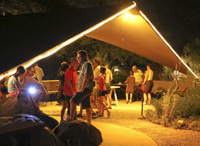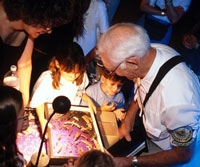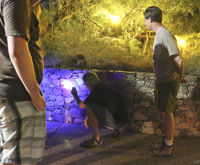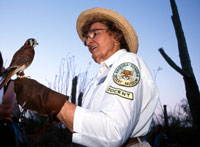 Photos above by Rhonda Spencer and Josh Schachter
Beat the Heat with
Cool Summer Nights 2014
Saturday Evenings — May 31 through August 30
Open until 10:00 p.m.
Special Programming (usually begins at 6:00 p.m.)
As summer temperatures simmer in the 100s, Arizona residents seek to keep cool and still stay active. A visit to the Desert Museum on Saturday nights has become a Tucson tradition.
With stunning sunsets, clear desert skies, gourmet dining, and animals miraculously appearing from their heat-induced daytime estivation, it's understandable why the magical-like Saturday nights have become so popular. This year, by popular demand, the Cool Summer Nights schedule has been expanded offering 14 nights to enjoy beginning Saturday, May 31st.
On opening night, the Museum will also unveil a new reptile exhibit, Snake! Rattle & Roll, introducing intriguing and lesser-known Mexican rattlesnakes from Sonora and Baja California.
A nighttime visit is just downright different from a daytime visit. The desert's nocturnal animals become active, bats turn into insect-seeking missiles, and scorpions glow under black lights. The Museum's highly trained and dedicated docents provide Sonoran Desert insights at interpretative stations scattered throughout the grounds.
Dining on summer Saturday evenings at the Museum is a culinary delight as the upscale Ocotillo Café is open for dinner. The intimate desert garden setting is the perfect backdrop for savory Sonoran recipes. Reservations are strongly recommended by calling 520-883-5705.
For taste-temping treats visit the Cottonwood Snack Shack located near the Riparian Corridor's otters and beavers. Indulge in a "build-your-own" ice cream sandwich — sure to be a hit with families!
Also open for dinner is the Ironwood Terraces Restaurant, the largest dining venue at the Desert Museum which offers a more casual atmosphere, either inside or outside on one of the many patios overlooking the desert landscape and nighttime vistas.
And just in case you forgot your black light, both gift shops will be open. You might consider starting your holiday shopping early!
Each summer Saturday night has a unique theme and special activities typically begin at 6:00 PM, although some do start earlier. Check the schedule below for weekly themes and activities.
Ongoing Nightly Events on Cool Summer Nights
Look for Museum Docents and Jr. Docents interpreting live animals, celestial desert skies, fluorescent minerals, animal eye shine, Sonoran Desert insects, night sounds, bats, kissing bugs, scorpions, and/or rattlesnakes.
Check the Plan Your Visit board at the Entrance Patio for times and locations!
---
Weekly Themes & Activity Schedule
(See previous Saturday schedules)
August 2 — Conservation Night
Join the Museum in recognizing significant conservation achievements as it presents its Sonoran Desert Conservation Award. Award recipients will share highlights of their conservation projects. Be inspired! A variety of local conservation organizations will be on hand to show how to get involved.
Scheduled Activities:
6:00 to 9:00 p.m. Conservation Education and Information Fair

Cool Conservation activities for everyone in the family, plus a free raffle (1 ticket per person) for a printed and framed photograph of the Colorado River just about to meet the tidal inflow of the Sea of Cortez, offered by the Sonoran Institute!! Wildlife Tracking with Sky Island Alliance; Elephant Conservation with Reid Park Zoo; Rainwater Harvesting and Soil Building with Watershed Management Group; Birding Games and Opportunities with Tucson Audubon Society; Buffelgrass, Fire Prevention and Wildlife Images from Saguaro National Park; Art-based Visioning Station about water in our region and information about Santa Cruz Restoration and the Sun Corridor from the Sonoran Institute; What's New in National Parks with WNPA, Recycling with World Care and Water and Air Quality with Pima County DEQ.

7:00 to 7:45 p.m. Threatened and Endangered Species Live Animal presentation

8:00 to 9:00 p.m. Presentation of Sonoran Desert Conservation Award

Colorado River Delta Restoration: Osvel Hinojosa Huerta (Pronatura Noroeste) and Jennifer Pitt (Environmental Defense Fund)
---
August 9 — Full Moon Festival — Poetry and Music
The arts take center stage at this Full Moon Festival. Witness the unveiling of the Museum's first poetry exhibit. Enjoy performances by the U of A's corrido contest winners. Attend a free photography workshop or art class. Or join in the family poetry and art activities, like black light painting.
Scheduled Activities:
6:00 to 9:30 p.m. Glow-in-the-Dark Art Activities

Create art inspired by the desert at night using glow-in-the-dark paint, black lights, beads and more. You may want to make astrology themed paintings, desert night life inspired creations or free paint with the exciting materials. All ages.

6:00 to 9:30 p.m. Poetry Activities

Take a cue from the full moon and participate in these interactive poetry activities! You'll have the chance to create your own poem in a variety of forms. All ages.

6:00 to 9:30 p.m. Puppet Making

Come check out the fun and funky puppet making projects. Be inspired by the many museum animals that share this desert with us, and delight in creating your own characters. There is a puppet project for everyone with multiple project stations suitable for all ages ranging from 5 minutes to an hour.

6:30 to 7:30 p.m. Corrido Performance

Enjoy a performance of this popular sung form of poetry. The performance includes winners of the University of Arizona Poetry Center's Corrido Contest. You can also learn more about the Museum's continuing poetry projects and listen to a reading by Poet-in-Residence Eric Magrane.

8:00 to 9:00 p.m. Photography Class: Cool Tools!

Join ASDM Art Institute Instructor Jay Pierstorff and ASDM Photographer Rhonda Spencer in this fun, fast-paced photo class.
---
August 16 — Desert Harmonies

Promotional support
provided by KXCI
Tonight is all about making music in the desert! No matter what your musical taste, there's no better place to indulge in it! Listen and enjoy a variety of cultural musical performances including some just for kids! Experience the instrument petting zoo or try your hand at making your own instrument at a special build-your-own- instrument activity station.
Scheduled Performers include:
Keli Carpenter - Listen to smooth vocals of this lead singer of The Tryst, known for their sweet concoction of desert soul with roots in jazz and funk. Tight, exuberant and sultry is what you can expect to hear when you tune in to this Tucson delight!
Jeff Grubic - Inspired by music from around the world, from African Pymy chants to American pop music, enjoy the velvety sounds of this jazz saxophone artist.
Michael Lich - Savor the sounds of this eclectic musician — classical guitarist, banjo-player, and composer — who performs classical, jazz and bluegrass music.
Odaiko Sonora - Experience the artistic, powerful and physically demanding discipline of taiko, Japanese ensemble drumming.
Tom Walbank - Listen to the fearless performance style of this blues artist. His merging of traditional and modern harmonica stylings have garnered him an international reputation and accolades including being a two-time winner of the Arizona Blues Challenge!
Nap Skippers - The Rustad Family is a bunch of nap skippers who'd rather play music then rest for an hour or two. Rock along with original and classic family-friendly music that just might get you moving to their beat!
Sticks & Fingers - From from Calypso, Soca, Reggae and African beat to American Standards these performers will transport you to a festive experience in the tropics through their Afro-Carribean sound integrating percussion, dance and vocals.
Trio del Barrio - Celebrate the rich heritage of Tucson and enjoy this exciting Mariachi trio.
Entre Peruanos - Explore Peruvian folk music with this Tucson-based group who have become ambassadors of Peruvian and Andean culture in Tucson.
Also performing around the gardens:
Naomi Orchard - harp
Marina Vollin and Alexendar Pie - clarinets
Tia Noel - vocals
Sonya Norman - flutes
Tubano Group - drums
---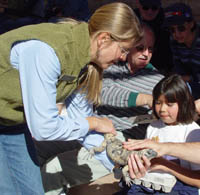 In time for back-to-school, the Museum hosts an evening of science encounters. From mineral and rock interpretive stations to science demonstrations, the museum will demonstrate that science isn't static — it rocks! Enjoy presentations by the Physics Factory, a team of scientists and educators with a common goal: to share their enthusiasm for physics with students, teachers and the community. From hands-on learning to eye-popping stage shows, The Physics Factory demonstrates that physics is an exciting discovery process!
---
August 30 — Go Batty for the Museum's Birthday!
Although the Museum turns 62 this year, it's not contemplating retirement! Tonight's festivities embrace everything that infuses the Museum with its unique approach to learning and loving the Sonoran Desert region. From a complimentary photography class, to "bat talks" from experts, to listening to bats communicate with bat detectors, to bat-themed birthday cakes, this night will be a fabulous fiesta of fun!
Scheduled Activities:
8:00 to 9:00 p.m. Photography Class: Night Photography

Join ASDM Art Institute Instructor Jay Pierstorff and ASDM Photographer Rhonda Spencer in this fun, fast-paced photo class.
---