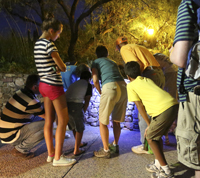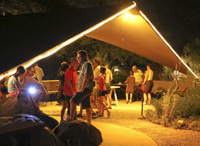 Dining on summer Saturday evenings at the Museum is a culinary delight as the upscale Ocotillo Café is open for dinner.
The intimate setting is the perfect backdrop for savory Sonoran recipes.
Reservations are strongly recommended by calling
520-883-5705
.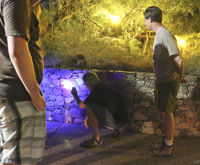 Photos above by Rhonda Spencer and Josh Schachter
Beat the heat and enjoy refreshing summer evening breezes during Cool Summer Nights. With stunning sunsets, star-lit skies, gourmet dining, and animals reappearing from their daytime estivation, it is understandable why these enchanting Saturday nights have become so popular.
Plan your escape from the city with a scenic drive through the Tucson Mountains. Relax. Unwind. And unplug! A visit to the desert at night is transforming as the desert's ethereal aura saturates your senses. The desert's nocturnal animals become active, bats turn into insect-seeking missiles, and scorpions glow under black lights.
Each summer Saturday night has a unique theme, special programs and family activities. Plan to arrive early for the best parking! Check the schedule below for weekly themes and activities.
Ongoing Nightly Events on Cool Summer Nights
Look for Museum Docents and Jr. Docents interpreting live animals, celestial desert skies, fluorescent minerals, animal eye shine, Sonoran Desert insects, night sounds, bats, kissing bugs, scorpions, and/or rattlesnakes.
Check the Plan Your Visit board at the Entrance Patio for times and locations!