May 21 - September 3, 2016
Saturday: 5:00 p.m. — 10:00 p.m.
Regular Admission Rates Apply
Note: The Ironwood Terraces Restaurant and Cottonwood Café are open for Cool Summer Nights. The Ocotillo Café is open for Cool Summer Nights through August 27. The Ocotillo Café will be closed on Saturday, September 3.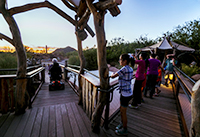 Photo credit: Arizona Daily Star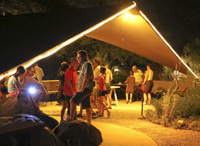 Photo credit: Rhonda Spencer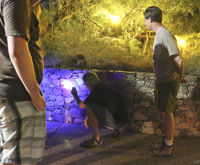 Photo credit: Rhonda Spencer
Beat the Arizona heat and enjoy a family-friendly outing during our popular Cool Summer Nights. So what makes these Saturday evenings so enchanting? The stunning sunsets, skies speckled with stars, night-blooming plants, and animals reappearing from their daytime naps.
The desert comes alive at night as nocturnal animals awake. Bats perform aerial acrobatics in pursuit of dinner, beavers splash around in their pond, and scorpions glow green under black light. Bring your flashlight and explore, experience a live animal encounter, or participate in special nightly activities. See the schedule below for weekly themes and activities.
Pro tip? Arrive early for the best parking!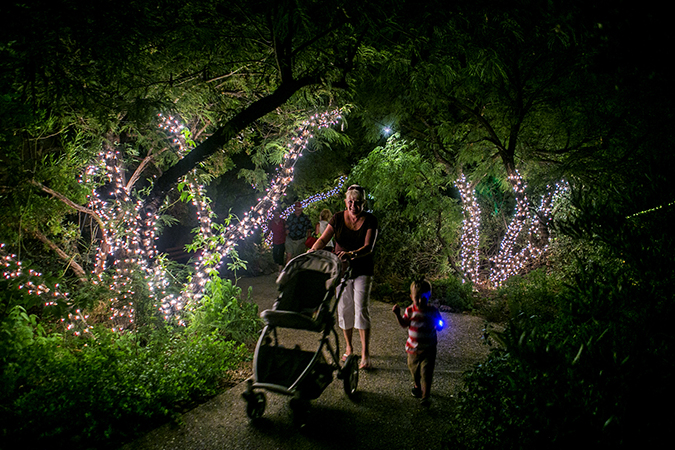 Photo credit: Arizona Daily Star
Weekly Themes & Activity Schedule
(See previous Saturday schedules)
August 27 — Teacher Appreciation Night
It's back-to-school time and the Desert Museum is a great place to bone up on biology, rock out with geology, and take off with astronomy. From mineral and rock activities to live animal presentations, the science of nature is on full display! PreK-12 teachers, in deep appreciation for their important work, will be admitted free with ID.
Join special guest Mayor Jonathan Rothschild in celebrating teachers and the birthday of our National Parks in one fun night!
Every day, teachers go beyond the books and the classroom to help our children understand and appreciate their connections to the natural world. The National Parks turn 100 this week, but our Park, Saguaro, is forever young with new programs and trails to explore.
We are fortunate to have dedicated teachers, a National Park and so many other beautiful natural places in our midst. Help us celebrate them!
Puttin' on the 'Blitz: A Biodiversity Birthday Celebration
Mayor Jonathan Rothschild and local teachers showcase the Tucson Schoolyard BioBlitz program, followed by a "Meet the Neighbors: the Biodiversity Nextdoor" live animal presentation.
Nature at Night Demonstrations
Nocturnal animals, night-blooming plants, fluorescent minerals and more!
*Special this year*
Desert Reads Program: Books and posters from the Desert Museum's backlist available free to teachers.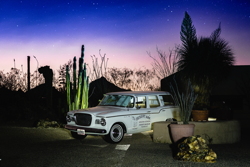 Photo by Lauren G. Bailey / Lovelight Photography
---
September 3 — Pollinator Night (Bats)
Bats rank among the planet's most misunderstood and unappreciated animals. It may simply be because they are only active at night and difficult to observe. Learn about the multitude of bat myths and gain a better understanding of these fascinating flying mammals. Observe live bats up close & personal.
Note: Due to remodelling, the Ocotillo Café will not be open tonight.
Bat Natural History presentation
Visits with these curious creatures
Discussions and interpretations with educational docents
Native American Flutes
---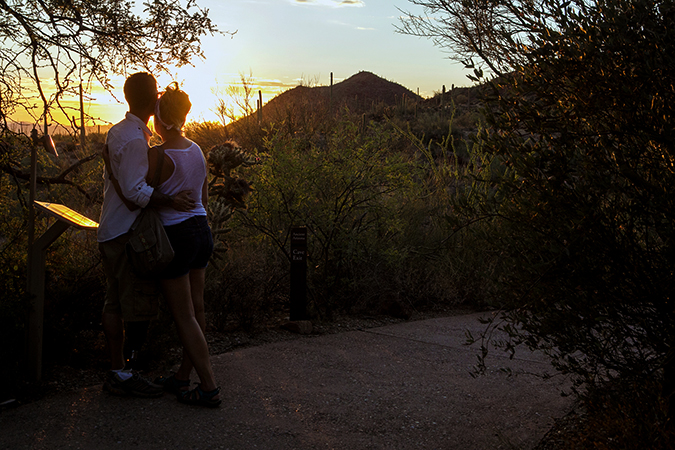 Photo credit: Arizona Daily Star