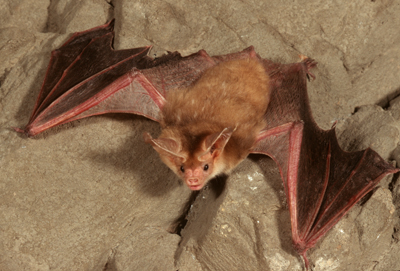 Scientific Name: Antrozous pallidus
English Name: Pallid Bat
© 1999 Paul Berquist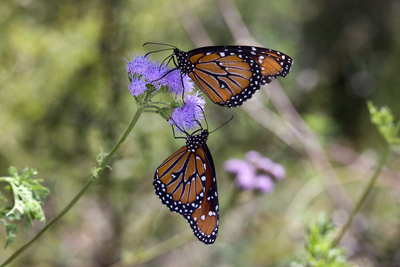 Scientific Name: Danaus gilippus
English Name: Queen Butterfly
© 2010 Rhonda Spencer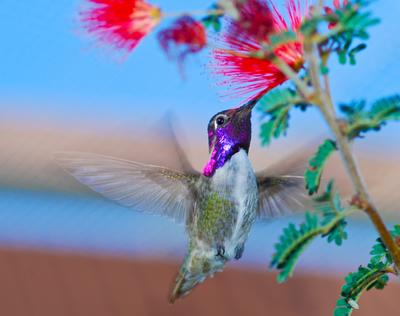 Scientific Name: Calypte costae
English Name: Costa's hummingbird
© 2009 John Chapman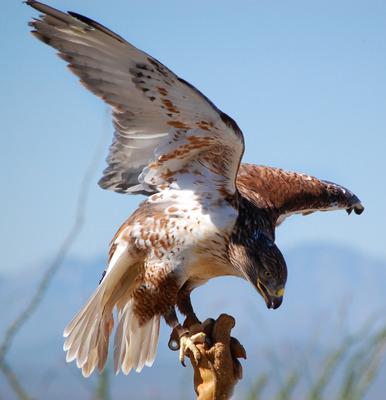 Scientific Name: Buteo regalis
English Name: Ferruginous Hawk
© 2010 Angella Parker
Festival of Flight:
Wings over the Desert
October 14, 15 & 16
8:30 a.m. — 5:00 p.m.
This year the Desert Museum will be launching a new festival that celebrates animals with wings: birds, bats and butterflies! The weekend will kick off with the opening of the much anticipated Raptor Free Flight Program & the Celebration of "Year of the Bat". Spend the day enjoying raptor programs, live bat encounters and lectures, tequila tasting, hummingbirds, live bugs, special presentations, hands-on science exploration and so much more! Families of all ages can enjoy fun winged-themed arts and crafts projects, and so much more. You do not want to miss it!
What do bugs, bats and birds all have in common?
Why, they are all animals that have the capability of flight! Here in the Sonoran Desert, there are a wide variety of animals that wing their way through the desert using their amazing navigation systems. All of these critters play an important role in the web-of-life and provide a service to us in so many ways.
Did you know?
Raptors have very large binocular eyes with unusually high densities of light receptors giving them excellent vision. Did you know that bats aren't blind and most have a unique sonar system for flying and navigating the night skies? Butterflies taste with their feet and one butterfly caterpillar resembles bird poop!
Did you know that a variety of food we eat is directly connected to a bat? Or that the order of bats includes the world's smallest mammal, the Bumblebee Bat, weighing less than a penny. Hummingbirds are small too, and can reach speeds of 60 miles per hour in a dive. They can also hover, and fly in every direction. These are among the many amazing facts you can learn during our Festival of Flight weekend.
Photographing Nature with the Art Institute
If you have not had the opportunity to take a class at the Art Institute, take advantage of a free 1 hour photography class and get your feet wet and "shoot like a pro". The class will include a review of the tools and techniques to get great photographs no matter what kind of camera equipment you own. Any camera will do, from high-end digital cameras to a Smart Phone. After the class you will have an opportunity to explore the museum grounds taking your new found skills in the field.
The Desert Museum is an ideal location to capture wildlife, plants and unusual minerals of the Sonoran Desert. If you are interested in a free photography opportunity you must pre-register. The class will be offered October 15 & 16 at 10:00 a.m. Contact the Art Institute to register and for further details.
Come one, come all — a weekend of food, fun & music!!!
We hope you can join us for a fun filled weekend for the entire family. There will be a special menu at the Ironwood Restaurant that will give you the opportunity to enjoy a meal that is directly connected to biodiversity while you enjoy live music throughout the Museum grounds.
Thursday, October 13
RFF Member's Preview: Thursday, October 13 at 10:00 a.m.
Friday, Saturday and Sunday, October 14-16
Birds Walk: 8:30-9:30 a.m.
Butterfly Walk: 10:00 a.m.
RFF Program: 10:00 a.m. & 2:00 p.m. (staff will have a bird on the glove for Q&A after both demonstrations)
Running Wild — 11:00-11:45 a.m. (Warden Oasis Theater)
Live and (sort of) on the Loose — 12:15-1:00 p.m. (Warden Oasis Theater)
Learn about Butterflies, Ethnobotany, Agave, Bats, Butterflies, Hummingbirds, and Raptors!
Temporary tattoos, family activities, hands-on crafts, microscopes, live bugs and more!
A free photo booth with a raptor will be open from 11:30-1:00 p.m. (bring your own camera)
Sonoran Super Market: sample and learn about the plants of the desert (10:30-11:00 a.m.)
Keeper Talk (outside the hummingbird aviary)
Bat Presentation with a live bat
Music in the Desert Garden
Tequila Sampling
Lunch at the Ironwood Terraces: special menu items: local and sustainable food with a biodiversity connection