Agave Heritage Festival at the Arizona-Sonora Desert Museum - Skip Links
Arizona-Sonora Desert Museum Agave Heritage Festival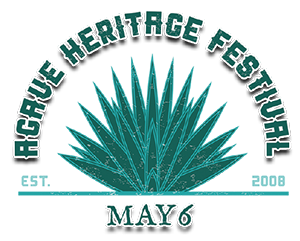 May 5-7, 2017
All activities below are free with Museum admission
Fibers, Tequila and Fun —
All about Agaves!
Activities will be conducted by Jesús García
Location: People & Pollinator Garden
May 5, 6 & 7 at 10:00 a.m. & 1:00 p.m.
Today, basic survival for most of us means regular trips to the supermarket. But imagine living in the Sonoran Desert five hundred years ago. Everything you needed came from right here. This program explores local resources, with a special focus on Agaves that native peoples of the Sonoran Desert region have traditionally used for food, beverage, medicines, fibers, and more. Visitors will experiment with ethnobotanical materials to make their own cordage, learn about agave beverages and so much more!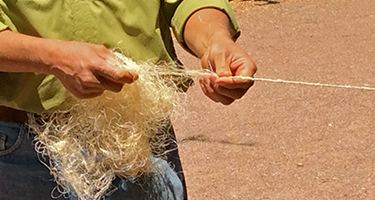 Photo: Dena Cowan
---
Agave Garden Tours
Tours and interpretations
Location: Agave Garden
May 5, 6 & 7 between 10:00 a.m. and 1:00 p.m.
Enjoy a tour of the Agave Garden from Desert Museum horticulturist, Jason Wiley and learn about ethnobotanical uses of agaves from docents. The Museum's Agave Garden collection is nationally accredited by the American Public Gardens Association and showcased in an all new setting created this year.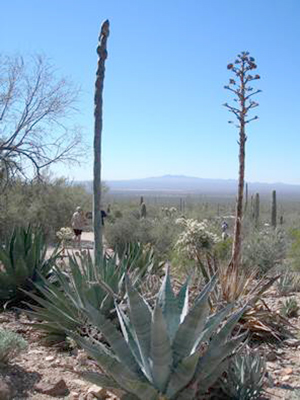 Photo: ASDM/Liz Kemp
---
Cryptic Gardens and Cryptic Agaves: Pre-Columbian Agaves in Arizona
Wendy Hodgson & Andrew Salywon
of the Desert Botanical Garden
Location: Warden Oasis Theater
May 5, 1:30 to 2:15 p.m.
The importance of agaves to Mesoamerica and its cultures has long been recognized for providing food, fiber and beverage. However, their significance to these cultures has overshadowed and distorted the plants' role for indigenous peoples north of the U.S. - Mexico border. Pre-Columbian farmers cultivated more than ten species of agave in Arizona from at least A.D. 600, including several putative domesticated species. Because of their longevity and primarily asexual reproduction, relict agave clones have persisted in the landscape to the present, providing an opportunity to study pre-Columbian nutrition, trade, migration and agricultural practices. Additionally, these remnant clones present a rare opportunity to examine cultivars virtually unchanged since they were last cultivated within a prehistoric cultural context. These discoveries underscore the necessity of viewing landscapes and some plant species from a cultural, rather than "natural," perspective that may help discern potential cryptic species veiled by more traditional taxonomic treatments. Understanding these plants and their ecological/cultural roles requires interdisciplinary collaboration between botanists and archaeologists.
---
Rare Collectable Agaves for Southwest Landscape & Container Gardners
Rare and collectable agaves will be for sale
from Greg Starr
Location: Desert Garden
May 5, 6, 7 from 10:00 a.m. to 2:00 p.m.
Interest in Agaves is surging for many reasons, not the least of which is their use in landscape gardening. These plants are big, bold, architectural and charismatic. Their form is evergreen and the range of shape and habit is intriguing. The interest they add to the garden is year round. Their flower stalks are majestic and the blooming periods prolonged. Plenty of agaves are cold hardy and can survive wet conditions if the drainage is good, but all are drought tolerant. These native plants offer a strong regional look when used in western gardens. The resurgence in Agave interest has resulted in many previously unavailable species making it into horticultural circles, and into the market.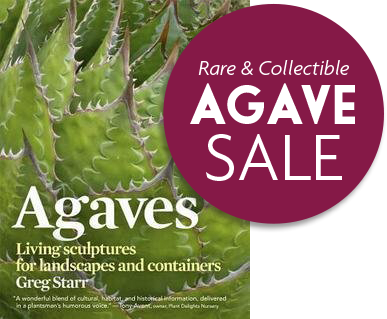 ---

The
Giftshop
will be selling beautiful inspired works themed of agave and cacti during the event.