Desert Tortoise Adoption Program
Program Overview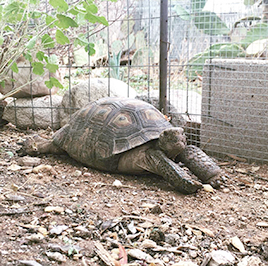 Photo: Sergio Avila
The Arizona-Sonora Desert Museum (ASDM) established the Tortoise Adoption Program (TAP) to benefit the welfare of captive and wild tortoises and turtles. The program is sanctioned by the Arizona Game and Fish Department and designed to assist with the transfer of unwanted or surplus captive desert tortoises to qualified private custodians.
The TAP exclusively addresses the Desert tortoise (Gopherus agassizii) in the Tucson area (within the natural distribution of tortoises). Other turtles and tortoises are occasionally accepted by the ASDM but are not administered through the TAP. These animals are referred to the Department of Herpetology.
Private individuals become turtle/tortoise custodians, not owners. The animals remain the property of the State of Arizona. Only animals in apparent good health are placed with custodians. Animals suffering from disease or malnutrition are generally retained for rehabilitation. Tortoises are not placed between October 1 and April 1.
Preservation of wild tortoise and turtle populations is emphasized and information about care and husbandry of captive tortoises and turtles is provided by telephone (520) 883-3062, information pamphlets, and this web-site.
If you are interested in adopting a tortoise, here are the steps to take:
First read all the information on the care of the desert tortoise on this website, including the appendices. Also look at the pictures of the burrow under construction.
Decide if you are comfortable with the requirements for tortoise care and the adjustments you may have to make to your yard. For example, if you have dogs, can they be kept separate?
If you wish to proceed, prepare your yard for the tortoise, and either take advantage of the AZGFD online application process — Tucson area requests will be forwarded to us, or you can follow our process below:
Review the yard checklist in appendix I (Tortoise Care & Husbandry link). These are the minimum requirements for your yard to pass inspection.
Build a pen or make sure your yard is secured with no possibility for escape. Check that your fence is underground at least 5 inches and that there is no route to escape around a gate, drainage hole, etc. A self-locking gate is desirable to prevent escape.
Provide food for the tortoise in the form of grass or native plants. Irrigation will be necessary, especially for the grass. A roll of sod is often adequate to feed a tortoise, so it is not necessary to have a large grassy area.
Build a burrow following the guidelines on this site. Make sure your burrow is situated so no water can enter the burrow from rainfall, irrigation runoff or drainage. It is best to locate the burrow in a high area of your yard that is shaded in the afternoon. Cover the burrow with a minimum of 8 inches of soil on top, sides and back. The soil is essential to provide adequate insulation for the tortoise.
Review the yard checklist one more time to make sure you are prepared for a yard inspection. If so, call 883-3062 and leave a message on the tortoise hot line requesting a yard check. Leave your full name, address and the best time to contact you.
An inspection will be scheduled and a determination made at that time what size tortoise will be best for your yard. If you wish to adopt a small tortoise remember to downsize your burrow. Tortoises like cozy burrows. If you wish to adopt hatchings, a cover over the pen may be necessary to protect them from predators.
If you have any questions while preparing your yard, please call and leave a message and a volunteer will return the call to assist you.