Members' Events and Information
Desert Museum Gift Memberships - Just in time for the Holidays!
Holiday gift memberships are available now, just in time for the holidays.
Purchase two gift memberships and receive a $5 discount on each membership!
Holiday gift memberships
purchased before
guaranteed to be received by
December 11th
December 25th
December 18th
December 31st
Click below to purchase your gift membership today!
Upcoming Members' Events
Thursday, January 15, 2015 from 5:00-7:00 p.m. Baldwin Education Building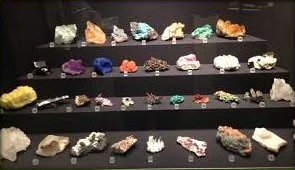 Enjoy an exclusive preview of this year's amazing Mineral Madness Show and shop for your favorite mineral specimens, enjoy light refreshments, a silent auction and raffle.
10% discount for members.
More information about this year's Mineral Madness
Member Discounts
New! Purchase Desert Museum playing cards featuring Prairie Dog illustrations by Priscilla Baldwin - special member pricing.
All current Members are eligible for the following discounts
Oasis concert tickets
Advance ticket offers and special events
Education and Art Institute classes, workshops, & fieldtrips (10%)
ASDM Press books purchased on the Museum's website (10%)
Restaurant purchases (10%)
Fall Plant Sale purchases (10%)
Seasonal discounts in the Museum Gift Shops
Electric Scooter rental ($5 discount)
Sign Up to Receive all Membership Communications by Email
To receive all event information, membership renewals, and ASDM News by email, use this form.
New Membership Policies
Thank you all for being valued members of the Arizona-Sonora Desert Museum. There are some new membership policies to take notice of as you enjoy your Museum membership.
Beginning July 2013, all Members will be asked to present a photo ID when presenting a membership card for Museum entrance.
Are you a Museum member in the Dual, Family, Turquoise, Copper, Silver, or Gold category of membership AND have selected the "guest of" membership card option?
If you answered yes then you should know that beginning October 2014, all individuals using the "guest of" membership card for admission must be accompanied by the Primary Member. Members will be gently reminded about this new "guest of" membership card policy change throughout the coming year. The new policy will go into full effect on October 1, 2015.
Need a new membership card?
Replacement cards are $3.00 each To purchase a new membership card, please fill out the following:
Note: There is a maximum limit of two replacement cards per membership.
ASDM Newsletters
Need Assistance?
Call the Member & Donor Services office
Monday — Friday from 8 a.m. — 4:30 p.m. at 520-883-1380 x 123 or 125
The membership office is closed on major holidays
Before you call check out some Frequently Asked Questions and Answers!