Sahara mustard (Brassica tournefortii)
What is it?
Numerous Old World mustards have invaded North America. Of these Sahara mustard (aka several other names) is the newest and by far the worst. It is a robust, fast-growing, drought-tolerant winter annual that prefers sandy soils. The basal rosette of divided hairy leaves can span three feet in wet years. The nearly leafless flowering stems branch profusely and grow to a height of about two feet, creating the appearance of a shrub from a distance. The small light yellow flowers are self-pollinating, so each of the thousands of them sets a seed pod. Large plants produce up to 16,000 seeds. Dried plants break off at the base and tumble like Russian thistle (tumbleweed, Salsola tragus), spreading seeds rapidly across the landscape. When wet, the seeds are sticky with mucilage and can be transported long distances by animals and perhaps vehicles.
| | |
| --- | --- |
| Photos: Mark Dimmitt unless otherwise credited | |
Why is it a Threat?
This weed grows very fast, smothering native herbaceous plants and competing with shrubs for light and soil moisture. The famous wildflower fields of the sandy valleys of Lower Colorado River Valley Sonoran Desertscrub are in grave danger. In the winter-spring of 2005 about three-quarters of the most famous wildflower areas in California and Arizona were overrun with Sahara mustard.
| | |
| --- | --- |
| This dune evening primrose seedling (Oenothera deltoidea, right) will soon be overgrown by the Sahara mustard seedlings next to it. | Sand verbena (Abronia villosa) struggling to survive beneath a large Sahara mustard that germinated at the same time. |
Then: 1998

Now: 2005

What we have lost:

These two scenes were both photographed in the northern end of the Mohawk Dunes in western Arizona. In 2005 Sahara mustard covered 70-90% of the surface area at this location. Almost no native wildflowers bloomed here in 2005.
In wet years Sahara mustard covers the ground almost 100% and can carry fire when it dries. It is a frightful thought that hyperarid desert, including sand dunes, can burn because of this weed. There have already been documented fires in the dunes west of Blythe, CA and the Pinta sands in the Cabeza Prieta Wildlife Refuge. This latter site is a remote, uninhabited, and previously pristine habitat. The fuel source of the Pinta fire was not documented, but Sahara mustard has been seen in that area as extensive stands five feet tall and too dense to walk through. Most Sonoran Desert plants cannot tolerate fire; burned areas become wastelands of nearly pure exotic weeds.
| | |
| --- | --- |
| Snow Creek Canyon on the south side of the San Jacinto Mountains near Palm Springs, CA used to be covered in huge carpets of pink, yellow, and white flowers in wet springs. Now it is almost 100% Sahara mustard. | This area of sand dunes in the Chuckwalla Valley, CA (west of Blythe) burned, killing most of the creosotebushes. Sahara mustard was the fuel. |
What buffelgrass is to the Arizona Upland, Sahara mustard is to the low deserts in damage inflicted on the biotic community. But the mustard has overrun a far greater area than buffelgrass has in the United States. And it's been expanding rapidly only since about 1995. In riparian communities saltcedar is its equivalent.


Click thumbnail to see a 360-degree panorama taken near Parker, AZ in June 2005. The plants may look small, but the creosotebushes (dark spots) are nearly 5 feet tall. Photo: Marilyn Hanson
Distribution
Sahara mustard is abundant in the Desert Southwest at low and mid elevations from southeastern California to southern Nevada and south into Baja California and Sonora. It's rare in southern New Mexico and western Texas. It extends to the edge of the tropics in Mexico.
It is native to many areas of the Old World from north Africa and the Middle East east to southern Europe and Pakistan.
The Federal Interagency Committee for the Management of Noxious &
Exotic Weeds (FICMNEW) has recently taken notice of the threat and conducted an inventory of land management agencies in California and Arizona. It has already invaded most low desert areas in the two states, including the Mojave National Preserve, Joshua Tree NP, Grand Canyon NP, Glen Canyon; Lake Mead NRA, Organ Pipe NM, and Anza Borrego California State Park. It is currently invading the southern edge of Death Valley National Park.
Habitat
It is most abundant in Lower Colorado River Valley Sonoran Desertscrub and lower Mohave Desertscrub. It's currently uncommon in Arizona Upland Sonoran Desertscrub, and rare in chaparral and desert grassland. It favors sandy, disturbed soils at low elevations, but its range is expanding rapidly into undisturbed soils including rocky hillsides. The literature lists its elevational range as 250 to 2800 feet, but it has recently been found above 4100 feet and there is one record from 7000 feet.
| | |
| --- | --- |
| This huge field of dried Sahara mustard near very arid Parker, AZ was several miles long. If it catches fire, the houses in the background are at risk as well as the few native plants left. | One way that weeds invade new habitats: This mound of imported soil in Tucson, AZ was infested with seeds of Sahara mustard and London rocket. |
History of Invasion in Southwestern North America
1920s through 1970s: This recent invader probably arrived in North America as a contaminant in crop seed. The first record is from California's Coachella Valley in 1927. It was first discovered in Arizona-Sonora in 1957 on Mexico Highway 2 near Yuma. By the 1970s it was widespread in the low desert in Arizona, California, Baja California, and Sonora. Dense stands were restricted to sandy soils and disturbed areas; it was rarely found in undisturbed desert. Among the disturbed habitats colonized were berms of loose soil, borrow pits, burned areas, off-road vehicle recreation areas, and washes.
(It was first collected in Tucson, Arizona in 1978, and in 1991 was still reported as rare. As of 2005 it is widespread and locally common in the metropolitan area and surrounding suburbs.)
1980s: It continued to spread rapidly along linear disturbances such as washes and roadsides. Seed-infested soil from borrow pits has transported it to new, distant sites. It spread north into the Mohave Desert and Utah. It replaced all the other weedy, exotic mustards in the Box Springs Mountains in Riverside, California.
1990s: It began rapidly spreading into undisturbed desert habitats, and became a dominant in large areas of the lower elevations of the Sonoran and Mohave deserts. It invaded the Great Basin in Owens Valley, California. Only in the 1990s did botanists and land managers become alarmed about Sahara mustard, but their concern subsided during intervening dry years when it did not appear in numbers.
2000s; a new phase of invasion: It invaded eastward across southern New Mexico into Texas and northward into the Colorado Plateau.
* Of far greater concern was that in 2005 several biologists discovered Sahara mustard in nearly pure stands on steep, rocky hillsides in the River Mountains in Nevada, Calico Hills and Anza-Borrego Desert State Park in California, and near Yucca, the Cabeza Prieta National Wildlife Refuge, and Saguaro National Park in Arizona. It appears to be adapting to substrates far different from its formerly preferred sandy soils.
* Also in 2005 populations were documented in nondesert habitat up to 4100 feet elevation (1260 m). A single plant was found in a vacant lot at 7000 feet (2160 m), where it was growing as a summer annual. It is not known at this time whether the seeds can survive the cold winters and establish summer populations. However, it occurs as a summer weed in Puebla, Mexico, where it has been a significant agricultural pest since at least the 1970s (Heike Vibrans, pers. comm. 2006).


Most of the green on this rocky desert hillside is Sahara mustard (as is nearly all of the foreground). Whitewater Canyon near Palm Springs, California, March, 2005. Photo: Mark Dimmitt
Ecology
Sahara mustard is adapted to very arid habitats and poor soils. It is grown as an oilseed crop in India on impoverished soils where little else wil grow. Seeds will germinate either in the light or dark and can survive 8 weeks of inundation. Plants are tolerant of saline soils. Because it is a desert plant, seeds can probably survive for several years, creating a seed bank in the soil.
Sahara mustard is allelopathic (inhibits plants of other species), so pulled plants should be removed, not left on site. Date farmers in the Coachella Valley (California) appreciate it because it suppresses other weeds.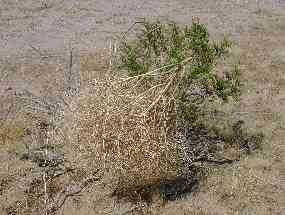 Sahara mustard tumbleweed lodged against a creosotebush. Photo: Mark Dimmitt
Most seed pods are indehiscent (don't split open) for several months after the plants dry. The plants break off at ground level and roll in the wind, dispersing seeds as they go. The seeds are sticky when wet and can probably be spread by animals and vehicles.
It does not seem to carry fire well. It may require either very dense stands and strong winds, or an understory of other weeds such as Mediterranean grass (Schismus spp.) Nonetheless, there have been several major fires in the deserts that did involve Sahara mustard whether or not it was the main or sole fuel source.
Plants have a high oxalic acid content, so they may be toxic to desert tortoises and other native herbivores.
Sahara mustard is a potential host for curly-top virus, a serious crop disease. The virus vector, beet leafhopper, readily feeds on the mustard.
A hard freeze will severly damage Sahara mustard, perhaps giving native annuals a chance to reproduce in some years.
What can be Done
One of the first tasks is to document the extent of the invasion and the impacts on the environment. This helps to convince land management agencies of the magnitude of the threat and spur action. The results should be widely posted, as Craig Dremann of Ecoseeds has done for Sahara mustard in the Anza-Borrego region and the Coachella Valley. Many land management agencies and conservation organizations have begun surveying their lands for this weed.
In small areas Sahara mustard can be eradicated by pulling plants before they mature seed. This is most effective in new invasions where a seed bank has not been established. Even where there are established populations, hand-pulling greatly reduces the following wet year's crop.
Control in the thousands of square miles of remote desert habitat seems almost hopeless. Finding an acceptable biological control agent will be a challenge because many important crop plants are in the genus Brassica (e.g., cabbage, cauliflower, broccoli, brussels sprouts, and rapeseed [source of canola oil]). There are also numerous native mustards that might be threatened by a biological agent unless it is extremely host-specific.
In selected areas herbicide treatment may be effective. Sahara mustard tends to be the first annual to germinate after a rain, so early treatment may reduce its abundance and allow later-germinating natives to establish.
The spread of Sahara mustard can be reduced by controlling it along roads, which provide corridors for rapid invasion into new habitats.
FICMNEW has polled land management agencies in California and Arizona to estimate the cost of controlling Sahara mustard in the two states. The minimum estimate to control this one weed and restore damaged habitats is $126 million for one year (Ecoseeds mustard site).
Other Common Names: Asian mustard, Moroccan mustard, desert mustard, southwestern mustard, Mediterranean mustard, Mediterranean turnip, wild turnip, prickly turnip, turnip weed. Spanish: mostaza del Sahara, mostaza del desierto
Related weeds
Several other exotic mustards are also invasive threats to the Sonoran Desert. Most of them have been here a long time and have already fully colonized most suitable habitat; we hope they will not cause further damage to communities. Black mustard (Brassica nigra and similar spp.) can also grow to nearly three feet tall. It is distinguished from Sahara mustard by its smaller leaves and larger, bright yellow flowers. London rocket (Sisymbrium irio) is a major pest in gardens as well as roadsides and undisturbed desert areas. It has bright shiny leaves and flower stalks up to 2 feet tall with small bright yellow flowers.
Arugula (aka rocket salad, Eruca vesicaria sativa) is a culinary herb with one-inch whitish to yellowish fragrant flowers. It is so extensive that it has been given its own page.
Links
Sahara mustard workshop summary on Cal-IPC website , August 2005
Desert Museum wildflower hotline
California Exotic Pest Plant Council
References
Much of the above information was obtained at a Sahara mustard workshop held in Barstow, California in August 2005. The principle sources quoted are Matt Brooks (USGS, Las Vegas) and Jodie Holt (University of California Riverside). Additional information was provided by Sue Rutman (Organ Pipe Cactus National Monument).
Felger, R.S. 1990. Non-native plants of Organ Pipe Cactus National Monument. Tech. Rep. 31. Tucson: Cooperative National Park Research Studies Unit.
Felger, R.S. 2000. Flora of the Gran Desierto and Rio Colorado of Northwestern Mexico. Tucson: University of Arizona Press.
Malusa, Jim, Bill Halvorson, & Deborah Angell. 2003. Distribution of the exotic mustard Brassica tournefortii in the Mohawk Dunes and Mountains, Arizona. Desert Plants 19(1):31-36.
Minnich, R.A. and A.C. Sanders. 2000. Brassica tournefortii Gouan. In: Bossard, C.C., J.M. Randall, and M.C. Hoshovsky. eds. Invasive Plants of California's Wildlands. University of California Press, Berkeley and Los Angeles. 360 pp.
Sanders, A., and R. Minnich. 2000. Brassica tournefortii . in Bossard, C. C., J. M. Randall, and M. M. Hochovsky. Invasive Plants of California's Wildlands. University of California Press, Berkeley, CA.
Tellman, Barbara (ed.). 2002. Invasive Exotic Species in the Sonoran Desert Region. University of Arizona Press.
Van Devender, T.R., R.S. Felger, and A. Burquez M. 1997. Exotic Plants in the Sonoran Desert region. 1997 Symposium Proceedings, California Exotic Pest Plant Council. Website