Arugula, rocket salad (Eruca vesicaria sativa )
What is it?
Arugula (rocket salad, Eruca vesicaria ssp. sativa) is a culinary herb with one-inch whitish to yellowish fragrant flowers. The plants can grow to 5 feet tall in wet years in the desert of southwestern Arizona.
Plant and flowers of Eruca vesicaria sativa west of Gila Bend, AZ. Photos: Mark Dimmitt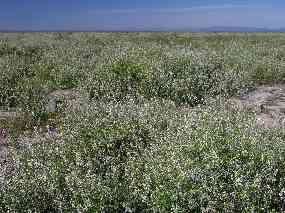 Almost everything visible in this scene is arugula. The plants are nearly as tall as the widely-scattered creosotebushes barely visible in this scene taken in March 2005 in the Hyder Valley, AZ. Photo: Mark Dimmitt
Why is it a Threat?
Arugula has become the dominant annual plant in much of the area along Interstate 8 from Gila Bend west to the Maricopa County line, a distance of 45 miles. Along this stretch it extends on both sides of the freeway as far as the eye can see. It has been there for many decades and is apparently spreading slowly. Because of the stealthy spread and its remote location, its invasion has gone largely unnoticed except by botanists.
Arugula attains densities equal to that of Sahara mustard.
| | |
| --- | --- |
| A year after the wet spring of 2005, Brassica tournefortii (left) has shattered and blown into the frame. The other plants are Eruca and are still standing. Photo: Mark Dimmitt | A year after they died, there is still a standing mass of interlocking plants of Eruca. Photo: Mark Dimmitt |
Eruca vesicaria is a significant local threat; it is much less widespread than Sahara mustard. However, it is still extending its range. In spring 2005 scattered plants were found along Interstate 10 west of Phoenix. The masses of dead plants remain standing in place for at least a year after maturation, and can probably support wildfires.
Huge stands of Eruca vesicaria sativa remain along I-8 for 45 miles west of Gila Bend, AZ in June 2006, a year after the plants grew in the wet winter of 2005. Photos: Mark Dimmitt
Distribution
It is a widespread weed from southern Mexico to Canada. The largest and densest infestation is along Interstate 8 in Maricopa County, AZ from Gila Bend west for 45 miles to the Yuma County line. (It is cultivated commercially on a small scale in Maricopa and Yuma counties.) New infestations have been found along I-10 west of Phoenix. Native to the Medierranean region.
Habitat
Silty and rocky soils of valley floors and gentle hillslopes.
History of Invasion in Southwestern North America
It has been weedy in the Gila Bend area since at least the early twentieth century. Its spread has not been well documented.
Ecology
Eruca vesicaria sativa is a winter annual in the desert, germinating after fall rains and flowering peaks in March. The very high seed set is an indication that it is self-pollinating. Dead plants remain in place for at least a year; they do not break and tumble as does Sahara mustard.
What can be Done
Unknown.
Links
Alternative names: arrugula, garden rocket, gargeer, rocket, salad rocket, roka, roquette, rucola, rugula, Tira. Not to be confused with Diplotaxis tenuifolia which is also called arugula and wild rocket.
References
Felger, R.S. 1990. Non-native plants of Organ Pipe Cactus National Monument. Tech. Rep. 31. Tucson: Cooperative National Park Research Studies Unit.
Felger, R.S. 2000. Flora of the Gran Desierto and Rio Colorado of Northwestern Mexico. Tucson: University of Arizona Press.