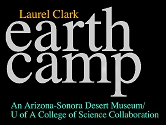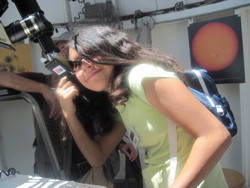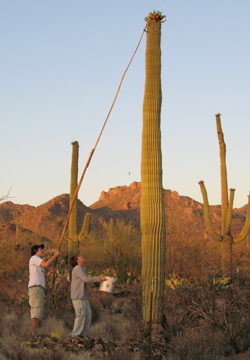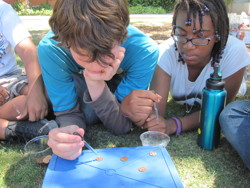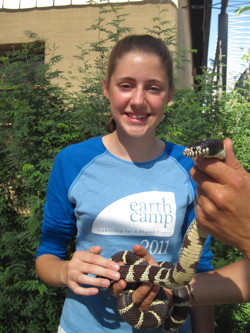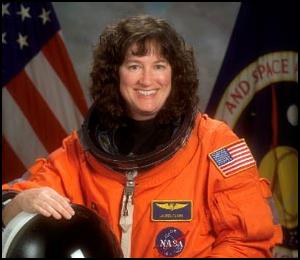 Middle School Earth Camp (Grades 7-9)
June 11-15 & 18-22, 2012
Earth Camp opens eyes and minds to our unique, interdependent and awe-inspiring planet, drawing connections from our homes, to our region, to the globe, and to what we can learn about Earth from space.
Conceived to honor the legacy of Columbia space shuttle astronaut Laurel Clark, the goal of Earth Camp is to educate and inspire youth to build leadership skills through experiential learning and conceptual understanding of earth processes. Earth Camp seeks to expand youth awareness of the interdependency of all living things, create a sense of wonder related to the Sonoran Desert and ecosystems worldwide, as well as open their eyes to the "awe-inspiring" universal perspective
Middle School Earth Camp will challenge youth entering grades 7, 8 and 9 to consider water resources and sustainability issues. During the first week, students will work with a team of experts representing the diverse branches of science that study the environment. Students will gain exposure to techniques in soil science, hydrology, tree-ring studies, botany and more through hands-on experiements and data collection. The second week will include activities tailored to show campers what actions they can take in their own homes, communities and schools to live more sustainably now and into the future.
By interacting with live animals, harvesting saguaro fruit, camping in the desert and the mountain tops, removing invasive species from a lake, coring trees for tree-ring analysis atop Mt. Lemmon, exploring behind-the-scenes at the Arizona-Sonora Desert Museum, scanning the night sky through telescopes, viewing the earth through space imagery, completing research at Biosphere 2, biking through the streets of Tucson to visit a farmer's market, meeting with community members who are making a difference, sketching/writing in field journals, recording data and images on individual Earth Camp web pages, and preparing presentations to share with their families during a Learning Celebration at the conclusion of the camp, Earth Campers become intimately connected to the world around them and better able to make choices that balance the needs of humans and the rest of nature.
A two-week experience including day-trips and three overnight adventures, Earth Camp will engage youth with hands-on investigations everyday and provide opportunities to explore the diverse academic and career opportunities that are available to them.
Participants are selected by an application process. Applications must be received by March 15th. Space is limited to 20 youth. Applicants will be notified by April 15th. Camp fee of $750 for selected participants is due by May 15th. Thanks to generous support from NASA, full and partial scholarships are available.
View a sample of our day by day activities.
For more information call Amy Orchard at 520-883-3083.
The application deadline of March 15th 2012 has passed.
About the Instructors: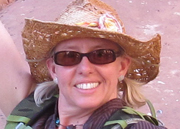 Amy Orchard has worked as an environmental educator at ASDM since 2001. She has a Bachelor's Degree in Environmental Studies from Prescott College and has 18 years experience educating youth of the desert southwest about its flora and fauna. Amy currently manages the Junior Docent program at ASDM and has taught natural history to youth groups in numerous exciting locations such as Arches National Park, on raft trips down the Colorado River and in the Catalina mountains. Amy has facilitated youth programs such as a six-year course, which included survival skills and overnight backpacking trips. Amy is an experienced whitewater river guide and enjoys knitting, hiking, scuba diving, and hanging out with her family.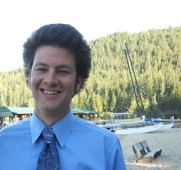 Jacob Prietto is a Water Educator with Arizona Project W.E.T., where he teaches elementary and middle school students about the interesting and important aspects of water, especially here in southern Arizona. Topics of discussion include groundwater flow, watershed management, and the water cycle. He also has a long history working with children in youth sports and youth recreation. Jacob received his Bachelor Degree in Environmental Hydrology & Water Resources from the University of Arizona, with studies emphasized in surface-water hydrology. After graduation, Jacob worked for 5 years as a professional hydrologist in the field of civil engineering, doing watershed studies, floodplain analyses, and stormwater management. His lifelong passion for sports includes playing soccer, basketball, and skateboarding.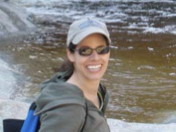 Maria Yannessa is a passionate environmental educator who has professional experience both as a zookeeper and as a teacher. Maria earned a B.S. in Biology and M.Ed. in Teaching and Teacher Education at the University of Arizona. Maria began her zoo keeping career in 1998 at Reid Park Zoo, and also worked as an elephant keeper at The Phoenix Zoo. Her classroom teaching experience includes teaching high school Biology in Tucson area schools for 2 years prior to joining the ASDM staff in 2009 as an Education Specialist. Maria believes in the empowering nature of education and is excited to promote good stewardship of the Earth through environmental education.