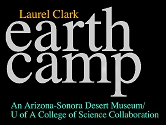 Standards Alignment
Strand 1: Inquiry Process

Concept 1: Observations, Questions, and Hypotheses
Formulate predictions, questions, or hypotheses based on observations. Locate appropriate resources to answer these questions.
Concept 2: Scientific Testing (Investigating and Modeling)
Participate in planning and conducting investigations, and recording data.
Concept 3: Analysis and Conclusions
Organize and analyze data; compare to predictions.
Concept 4: Communication
Communicate results of investigations.

Strand 2: History and Nature of Science

Concept 1: History of Science as a Human Endeavor
Identify individual, cultural, and technological contributions to scientific knowledge.

Strand 3: Science in Personal and Social Perspectives

Concept 1: Changes in Environments
Describe the interactions between human populations, natural hazards, and the environment.
Concept 2: Science and Technology in Society
Develop viable solutions to a need or problem.

Strand 6: Earth and Space Science

Concept 2: Energy in the Earth System (Both Internal and External)
Understand the relationships between the Earth's land masses, oceans, and atmosphere.
Concept 3: Changes in the Earth and Sky
Understand characteristics of weather conditions and climate.