Genus Echinocereus
English name: hedgehog cactus, strawberry cactus (many species)
Spanish names: See individual species
Description
The Sonoran Desert species of this genus have upright stems, usually not more than a foot (30 cm) tall, and typically in clusters. A few of the 44 currently recognized species in the genus have single stems. The ribbed stems help distinguish hedgehogs from the mammillarias, with which they are sometimes confused. Spines are straight or slightly curved, never hooked as in many mammillarias. The flowers are funnel-shaped or partly funnel-shaped, but abruptly flaring outward about 2¼ inches (6 cm) across in most Sonoran Desert species. Some are long, narrow funnels conducive to hummingbird or moth pollination. Flowers come in many colors, including white, yellow, pink, purple, and red; some are bicolored. The stigmas are usually green. Some species of Echinocereus are readily distinguished from other cacti by the flower buds that rupture through the skin of the stem, rather than emerging from the areoles. Nearly all species flower in the spring, though a Baja California species flowers in August or September. One species within the Sonoran Desert and a few beyond it have thin, trailing stems.
Range
Species occur in nearly all habitats in the arid southwestern United States and southward well into Mexico.
Notes
The fruits of several species are large, juicy, and tasty. They were eaten by indigenous peoples when they could get them before the birds and squirrels did. The genus is popular among cactus collectors because most species are of moderate size and have beautiful flowers.
Echinocereus brandegeei
English names: none known
Spanish names: pitayita (little pitaya), casa de rata (rat house)
Strawberry hedgehog (Echinocereus fasciculatus)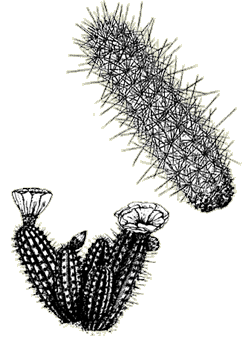 Description
This is a variable cactus. The stems grow in clusters, which vary from a few stems to great mounds more than 6 feet (2 m) across. Individual stems on different plants may be short and erect or long and trailing. The spines are also extremely variable in size and color, with color ranging from brownish to clear white or bright yellow. The flower tubes flare abruptly outward to about 3 inches (8 cm) across and are purplish lavender to pale pink. This species is unusual in the genus—it flowers in late summer instead of spring.
Range
This cactus is widespread in the southern half of Baja California, where it typically grows on rocky hillsides.
Notes
In some parts of its range E. brandegeei grows among devil's club cholla (Opuntia invicta). In these locations plants of the former species tend to have short, stout stems and very broad spines; they look remarkably like the cholla. The adaptive value of this convergence, if any, is unknown.
Echinocereus engelmannii
English names: strawberry hedgehog, calico cactus
Spanish names: sinita barbona (bearded little sina), cacto fresa (strawberry cactus), pitayita
Description
This hedgehog grows in clusters of up to 60 cylindrical stems, each up to 1 foot (30 cm) tall (rarely 3 times as tall). Sprouting from the closely-spaced areoles are 2 to 6 (usually 4) long central spines and 6 to 14 radial spines. Brilliant, deep purplish-red to lavender flowers open in April. The fruit has a juicy, tasty, red pulp.
Range
This plant grows throughout much of the Sonoran and Mohave deserts and southern Great Basin Desert, mostly in rocky or gravelly soils.
Notes
This species has several varieties, most of which are difficult to distinguish from E. fasciculatus. The latter species typically has 1 long central spine and 1 to 3 shorter central spines. There are two Chihuahuan Desert species with the same vernacular name, E. enneacanthus and E. dasyacanthus. (See also the next species.)
Echinocereus fasciculatus
English names: strawberry hedgehog, robust hedgehog
Spanish name: pitahayita
Description
This plant looks very similar to E. engelmannii described above (they may be a single species). On close inspection one can see that the areoles each have only 1 principal central spine and about 12 radial spines. The brilliant magenta to reddish-purple flowers bloom in the spring, usually in the first half of April in Tucson. The fruit—pale red outside when ripe—has bright red, fleshy pulp.
Range
This species is found in desert habitats from central Arizona to northern Sonora.
Notes
Some taxonomists favor elevating the varieties of this species—E. fasciculatus var. fasciculatus, E. fasciculatus var. boyce-thompsonii and E. fasciculatus var. bonkerae—to full specific rank. Echinocereus fasciculatus var. boyce-thompsonii (Boyce Thompson hedgehog) differs from the typical variety in having much longer, downward-pointing spines. The flowers are usually very deep purple. Echinocereus fasciculatus var. bonkerae (Bonker hedgehog) has fewer (5 to 15) stems and very short white or pale gray spines. Its flowers are also deep purple. Most of the plants in this group have 4 sets of chromosomes, but at least one of the varieties includes individuals with 2 sets.
Echinocereus nicholii
English name: Golden hedgehog
Spanish name: none known
Description
This is a large hedgehog with clusters of as many as 30 stems up to 2 feet (60 cm) tall, thickly clothed with long yellow spines. The light- to medium-pink flowers bloom in April. It was formerly classified as a variety of E. engelmanii.
Range
The golden hedgehog grows in south-central Arizona, mostly from Tucson to Organ Pipe Cactus National Monument, and also in adjacent Sonora.
Notes
When backlit by the sun, the spines of this cactus create a dazzling golden-yellow halo.