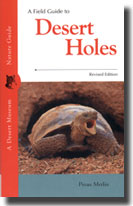 Buy direct from ASDM
A Field Guide to Desert Holes -
Revised Edition
by Pinau Merlin
$9.95 Softcover
October 2002
ISBN: 1886679231
Paperback: 132 pages
Dimensions: 0.50 x 7.25 x 4.25 inches
An ASDM Best Seller!Description:
They're everywhere in the desert! Ground holes. Elevated holes. Divots. Mounds. The revised edition of this quirky and popular field guide helps curious visitors -- as well as seasoned naturalists -- sort through the often bewildering abundance of desert holes so they can find out who's behind all that digging. Includes over 60 drawings of desert animals, their holes, and their tracks, and over 50 full-color photographs.
Reviews:
Smithsonian Magazine
"Just as Roger Tory Peterson heightened interest in birds...[Merlin] is bringing to light the unseen lives of the desert..."
Los Angeles Times
"An unusual new book that helps readers decode the various underground residences of the desert Southwest."
About the Author:
Pinau Merlin has lived in the desert Southwest for 25 years and in wilderness areas for 14 years. Ms. Merlin leads natural history expeditions in the United States and Mexico, teaches tracking, designs wildlife habitat and nature trails, and writes on a variety of natural history topics.
Back to Main Books Page