Victor, the Reluctant Vulture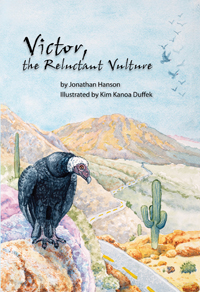 Order here
At this time, online book sales through the Desert Museum's web site have been temporarily disabled. We encourage you to visit us in person and browse our extensive book collection at our Gift Shops.
By Jonathan Hanson
Illustrated by Kim Kanoa Duffek
$16.95 New Lower Price $12.95
2012
ISBN: 978-1-886679-45-0
Hardcover: 36 pages, fully illustrated
Children ages 8-12
8 x 11.75 inches
Description
Who among us hasn't been uncomfortable in our own skin at some point in life? Who among us hasn't wondered about our own worth, wishing to be something we were not? Well, Victor, or Víctor, follows the innocent but impossible dreams and adventures of a young vulture who, through experience and the support of his family and community, finds his own self-worth. While written for intermediate readers (ages 8 to 12 or so), young and old alike will find this delightfully illustrated story humorous, touching, and meaningful. Along the way, they will learn about some of the unique characteristics of not only vultures, but of some common birds of prey in the Sonoran Desert. And that's just the story! For the older intermediate readers, as well as for teachers and parents, the book includes brief entries on the natural history of animals or plants featured in Victor's tale. So, treat your favorite young naturalists to the Desert Museum's Victor, the Reluctant Vulture or Víctor, el zopilote renuente.
Awards
Southwest Book of the Year 2013 — Children's Book Category
Reviews
"Learning who we are is not only children's work, but a lifelong process of self-discovery. Victor's engaging tale will not only encourage our youth to reconsider how they see themselves, it will also encourage them to consider their appreciation of wild creatures that are often not kindly looked upon. In addition, young readers will pick up many fascinating details about the Sonoran Desert, both in the story and in the accompanying natural history materials. Although this is a children's tale, the accuracy of biological information in it sets a high standard."
Amadeo Rea, PhD, San Diego Natural History Museum
Author of At the Desert's Green Edge, Wings in the Desert, and Folk Mammology of the Northern Pimans

"Vultures keep the world clean, diverse, and lively. Jonathan Hanson has perfectly captured their character in this book. Because of this story, I want to be a vulture when I grow up."
Gary Nabhan, Desert naturalist, farmer of the Vulture's Experimental Orchard
Author of Gathering the Desert; Coming Home to Eat; and Desert Terroir - Exploring the Unique Flavors and Sundry Places of the Borderlands
About the Author
Jonathan Hanson and his wife, Roseann, have written several natural history books together, including the Southern Arizona Nature Almanac and 50 Common Reptiles and Amphibians of the Southwest. They live in a tiny solar and wind-powered cottage in the middle of the Sonoran Desert. They count among their neighbors coyotes, deer, mountain lions, foxes, and lots of birds — including, of course, turkey vultures.
About the Illustrator
Kim Duffek's interest in art and nature began at a young age. When she wandered home from a day of playing in the Midwestern tallgrass prairie, where she grew up, her mother would often put a paintbrush in her hand. As an adult she earned degrees in both wildlife ecology and studio art, and she continues to be passionate about art and nature. Currently she works in the botany department at the Arizona-Sonora Desert Museum, pursuing wildlife art as her other career.