Mission San Xavier:

A Story of Saints and Angels, Art and Artists / Una Historia de Santos y Ángeles, Arte y Artistes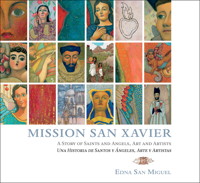 Order here
At this time, online book sales through the Desert Museum's web site have been temporarily disabled. We encourage you to visit us in person and browse our extensive book collection at our Gift Shops.
Edna San Miguel (Author/Illustrator)
$19.95 New Lower Price $12.95
2011
ISBN: 978-1-886679-43-6
Hardcover: Full color: 46 paintings/illustrations
Bilingual: English/Spanish
Suitable for ages 8-adult

Description
Saints and angels, missionaries and Indians, artists and conservators populate this fascinating introduction to a house of spirit, a Sonoran Desert landmark, and an artistic bridge to another era. A richly illustrated story for young and old alike, it is the perfect book for families to share.
Mission San Xavier: A Story of Saints and Angels, Art and Artists/Una Historia de Santos y Ángeles, Artes y Artistas tells the tale of the church of Mission San Xavier del Bac — its improbable rise in the eighteenth century in a vast desert, its decline over many decades by political and natural misfortunes, and its restoration and conservation by people who recognized spiritual and historical wealth in this place and found inspiration in its art. The book also introduces the reader to some well-loved saints of the Catholic faith.
The story is illustrated with Edna San Miguel's charming interpretive paintings of the church history, architecture, statuary, and decorations, as well as the efforts of the international team of conservators who came to preserve its baroque art.
Following the storybook section, a short "gallery of saints" highlights San Miguel's lively paintings of several saints depicted in the church. Each painting is accompanied by a paragraph on the life and work of that man or woman. For parents, aunts, uncles, and young adults, the book includes a brief history of the mission and the people who contributed to its construction and preservation. Another section details some of the technical challenges to the international conservators and the techniques they used.
Mission San Xavier is a book about divine art, artfully designed, a delight to the eye and an inspiration to the spirit. Colorful, playful, uplifting.
About the Author/Illustrator:
Artist extraordinaire, Edna San Miguel previously illustrated the multi-award-winning children?s book My Nana?s Remedies, by Roni Capin Rivera-Ashford also published by ASDM Press. San Miguel worked closely with an international team of conservators during their early efforts on the art at Mission San Xavier. .
Reviews:
An accessible and informative history of the San Xavier mission and those who have loved it, cared for it, and worshiped within its walls. The church has been an inspiration to many people, including author-artist Edna San Miguel whose paintings are full of the love so many have held for this special place. As she was inspired and moved by the mission, so will readers be inspired and moved by her book. Mark Bahti, author and anthropologist

A truly lovely book, in which text and illustrations come together to bring us closer to our beloved landmark, and to the skilled people who have worked so hard to make sure it stays with us. Jim Griffith, author and folklorist