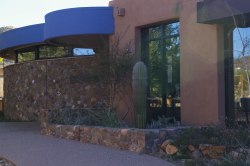 Follow posted signs to the
Baldwin Education Building
Exhibitions and Special Events
In the Baldwin Education Building
The Baldwin Education Building is generally open Monday through Friday from 9:00 am to 4:00 pm and by appointment. Weekend and holiday hours vary. Please call 520-883-3024 to check gallery hours for the day you plan to visit.
See also our Ironwood Gallery Exhibits
Rhonda Spencer Redux

On Exhibit through January 1, 2016
An exhibition of wildlife photography by local professional photographer Rhonda Spencer. This solo exhibition showcases an unusual collection of Arizona wildlife, featuring portraits of animals, insects, birds, flowers and landscapes. Artworks are available for purchase off the wall.
About the Artist
"It's about light... It's about apertures and F stops, as well as timing, and of course luck. It's about vision and imagination. It's about a passion, with a determination. It's about the excitement in capturing a moment..."
Rhonda Spencer, an accomplished artist from Southern Arizona, is known for her photographs of Arizona flora and fauna, specifically of the Sonoran Desert Region. Rhonda began her artistic career as a painter and transitioned into photography over the years, working initially in 35mm film and moving to digital photography. A self-taught photographer, Rhonda's main source of artistic inspiration comes from nature.
Rhonda's photography documents the rich diversity of Arizona wildlife, showcasing many unusual animals, insects, birds, flowers, and landscapes. Her wildlife portraits capture details in nature that are easily overlooked by a casual eye. It is through these details that Rhonda hopes her work will be educational and inspire people to stop, look and observe nature more closely.
Rhonda's work has been featured in numerous publications over the years including Arizona Highways, Arizona Daily Star, and Livewire Newsletter, as well as publications produced by Arizona Audubon, Arizona Game and Fish, National Wildlife Federation, Amtrak, and the Arizona-Sonora Desert Museum. For more information on Rhonda Spencer, please visit the artist's website.
Lucinda Larson, Agave, 2012
ASDM's Art Institute Annual Student Exhibition

March 12 - April 10, 2016
Opening Reception and Certificate Graduation: Saturday, March 12, 2016, 3:00 - 5:00 p.m.
Call for Entries
Printable PDF
Online entry form