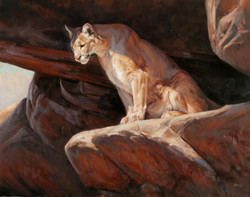 artwork by Ned Aldrich
Wildlife Painting with Ned Aldrich
Formally he is Edward Aldrich. Take this class and you can call him "Ned." You can also call yourself lucky to be painting with one of the best wildlife artists around. Ned demonstrates his approach from the initial thumbnail sketches to the last stroke of paint. He paints along with you so you can take it step by step. Start with the initial drawing as you discover the varieties and subtleties of animals in their habitats. Then proceed to working with oil paint and learn effective techniques for depicting fur and feathers while creating an illusion of form and solidity. Ned will discuss composition, color, rendering light, and how to begin a painting to assure a successful finish. Classroom time will include working from photographs: their benefits and setbacks. Four well-spent days of learning to paint wildlife will boost your knowledge of painting and reward you with progress you can repeat.

Certificate elective
PREREQUISITE:
all skill levels are encouraged

No refunds or tuition transfers will be allowed after February 11, 2013.
Download Materials List (PDF file)
Dates: Mar 22, 2013 - Mar 25, 2013
Days: Fri.,Sat.,Sun.,Mon.
Times: 10am-4pm
Course ID: 1686 (WPS13)